Slade Wilson has got to be one of the best villains ever created in DC and just when you thought he could not get any more awesome he got a New 52 makeover of note. The minute this prototype picture went online this figure became a must have, but is it "bang for your buck"?
Standing just short of 7 inches this figure is a highly detailed work of art! From the paint applications to the accessories this action figure remains true to its comic counterpart, erasing the memories of Liefeld's version of New 52 Deathstroke.
This sculpt is simply amazing as it involves so many different shapes and textures. You have squared shoulders showing that his new suit is a form of armour and not spandex. Then you have the mesh detail and texture on his torso letting you know that when it comes to battle Wilson has created and personalised his own functional look. The sculpt also has a highly detailed tactical harness that goes directly into a tactical belt laced with satchels and explosives. Unlike your usual action figure, the explosives and satchels are not part of the belt mold. Instead, they actually hang from the belt. DC has not cut any corners when bringing this figure to life. The sculpt also features bladed gauntlets the type that has become synonymous with The Batman. Deathstroke makes use of an armoured helmet as well. His armoured helmet is presented with perfection. You can see the parts that come together to make the helmet and the lack of symmetry to the helmet makes it so appealing. My only wish would have been for the helmet to open and show Slade's face, or DC Collectibles could have included an alternate helmet with an open face plate. He also has some awesome spikes to his boot to add more pain to the a$$ kicking he dishes out!
DC Collectibles pulled of a stellar job on paints with this action figure. The paint matches the comic look precisely. It feels as though Deathstroke has jumped off of a comic page and landed on your display shelf. So expect orange shaded satchels and explosives as Deathstroke lives up to his new look. The metallic colours really add to the look of this figure and lend to the fact that it is armour made of Nth metal. All the different shades and colours complement each other so well, whilst remaining tidy and precise. For a figure with this amount of detail and different paint apps you would expect a few spots of colour inconsistency or paint smears but this figure is almost flawless.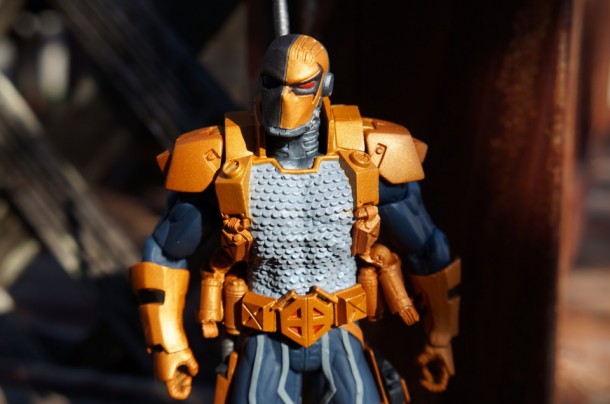 This figure also features over 16 points of articulation;
he has a ball jointed head,
swivel/hinge shoulders,
hinged shoulder pads which lift to allow movement in the shoulder joint,
swivel biceps which allow for epic blades and gun poses,
hinged elbows,
swivel forearms at the cuff of his gauntlets,
He has no abdominal articulation and, as a result of having a highly detailed belt, Deathstroke is left with a T-crotch with swivel thighs and single hinged knees and ankles that allow for back and forth movements, but no movements from side to side. There are a few downers which will affect display poses; this figure has no articulation in the wrists. He ends up having to hold a sword or blade that is either facing straight up or is pointed right down. This also means that guns will not be able to move into those epic gun-kata styled poses. His T-crotch also eliminates this figure from using natural looking crouch poses as if he were about to attack from stealth. Even leaping poses do not look natural as a result of this type of joint. So leg articulation becomes a bit of a fail for this assassin.
It is great to see that DC Collectibles has given some added extras with this figure. In terms of accessories, you will receive some weapons with great painted detail! This action figure is equipped with his trademarked sword, a hunting knife and a hand gun. An added bonus is the fact that each weapon can be carried by the actual figure. The figure has a knife pouch on the left leg and a gun holster on the right for his pistol. Both weapons fit nicely into their holders. On his back, between his backpack holsters, there is a little peg that plugs into a hole on the sword allowing Deathstroke to be posed with or without weapons in his hands. The pouches and explosives on the figures belt are not removable even though they may look like they are. These added accessories are great and really add value to this purchase.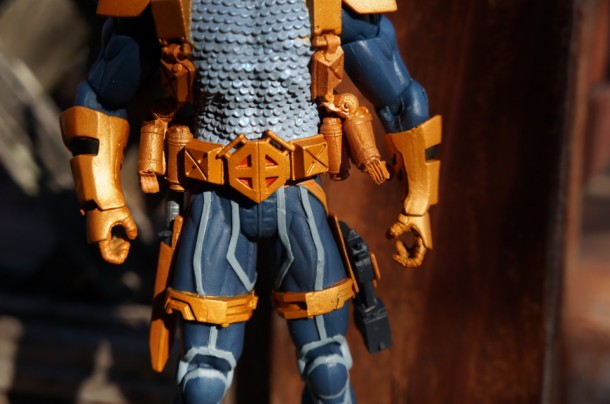 The packaging is standard to what you would expect of this line of action figures. You have the Deathstroke picture on the side of the box allowing for library style storage. You are also able to see the figure and accessories from the front of the front of the sealed box making it a great figure for collectors that prefer to keep their figures in mint condition. Being a villain box, the packaging has also been done in black and offers a brief bio of the villain that you have just purchased.
Despite the articulation flaws, this action figure is truly one of the best in this DC Collectibles run of action figures. Not only does it look great but it looks 100% true to the current New 52 Deathstroke. If you are a fan of this character you need to grab this figure and if you are just a fan of comics in general you should grab this figure too. It will inspire you to find out more about the world's most dangerous mercenary!
A big thank you goes to Marco and Hennie at Critters and Comics, they are currently offering the best price on this amazing figure so be sure to visit www.crittersandcomics.co.za for more information.
Photos from comicvine.com