In James Gunn's The Suicide Squad, Amanda Waller captures a new Task Force X and sends them on a mission to the South American island of Corto Maltese. A mishmash of DC characters, freedom fighters, generals, and a kaiju combine to create a violent, hilarious action-packed experience.
If you're looking for movies to watch with the same vibe as James Gunn's The Suicide Squad, I have 5 other recommendations for you.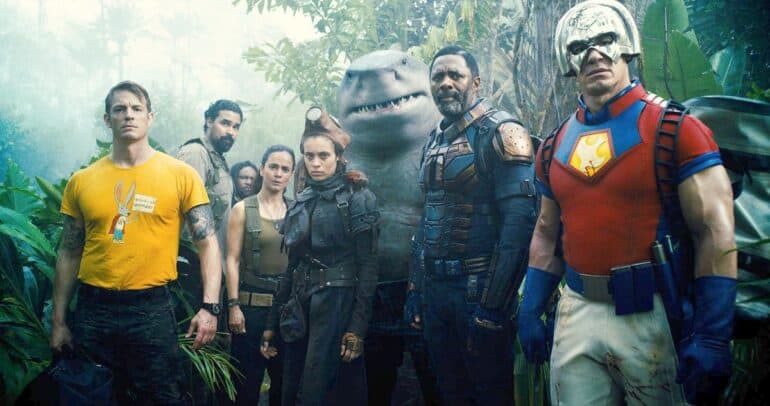 The Dirty Dozen (1967)
The renegade Major Reisman is tasked with training a group of soldiers to parachute across enemy lines and assassinate German personnel. The group is made up of death row killers and criminals whose sentences have been reduced if they survive this highly dangerous mission.
It's not hard to see similarities between these two movies. Especially this being one of the first 'team on a mission' movies. James Gunn even went so far as to base the poster for The Suicide Squad off the classic poster for The Dirty Dozen.
It's a full-blown war classic with a great ensemble cast.
Guardians of the Galaxy (2014)
Peter Quill is the main target of a manhunt headed by Ronan the Accuser, a genocidal villain. Quill forms a team of misfit, reluctant space heroes known as the "Guardians of the Galaxy" to help combat Ronan and his team and preserve the galaxy from his control.
If Guardians of the Galaxy received an R rating, James Gunn's The Suicide Squad appears to be what he would do. Both films follow a ragtag group of characters and are full of irreverent humour and unexpected heart. The similarities between King Shark and Groot are immediately noticeable.
You have probably seen Guardians already so it's time for a re-watch.
Deadpool 2 (2018)
Foul-mouthed mutant mercenary Wade Wilson assembles a team of fellow mutant rogues to protect a young boy with supernatural abilities from the brutal, time-travelling cyborg Cable.
Deadpool will have to form his own "Suicide Squad" — dubbed X Force. The fourth-wall-breaking humour and R-rated violence, combined with the fantastic soundtrack, make for a brilliant comic book outing.
Don't be deceived, this is a touching family movie, as DP would say.
Inglorious Basterds (2009)
Lt. Aldo Raine, an Allied officer, recruits a group of soldiers to carry out brutal acts of retaliation against the Nazis, including the scalping of their heads. Their paths cross with Bridget Von Hammersmark and Shoshanna who also seek vengeance against the Third Reich.
A war movie with a spaghetti western twist is Tarantino's take on the team on mission genre. Even if the humour is dark, it's a violent and funny film. Characters that are exceptionally well written and played.
This is a must-see film with outstanding performances by Brad Pitt and Christoph Waltz. And again, it's easy to see similarities between Inglorious Basterds and James Gunn's The Suicide Squad.
Escape From New York (1981)
In the future, crime is out of control and New York City's Manhattan is a maximum-security prison. Grabbing a bargaining chip right out of the air, convicts bring down the President's plane. Snake Plissken, a one-eyed lone warrior new to prison life, is coerced into bringing President back.
Snake Plissken is one of the most iconic anti-heroes in movie history. Snake, like the other members of Task Force X, has a bomb implanted in him and must finish the mission in order to remove it.
The plot is simple, yet John Carpenter delivers one of the best action films of the 1980s.
Did you enjoy James Gunn's The Suicide Squad?