There are many factors that go into choosing a trading app. For example, you need to see if the app is safe to use. In other words, if it complies with the right regulations. Fees are another important thing to keep in mind. Also, think about the reputation of the app. If lots of people use it, find out why they have chosen that particular app. Moreover, you need to know if it gives you access to the South African financial market only, or can you trade on other markets as well?
These are only some things to consider when picking out a trading app. To help you out in your search here are the top 5 South African trading apps to have. Some of them are better than others, but all apps have their pros and cons. You'll need to weigh them in and make a decision on your own.
Without further ado, here they are:
AvaTradeGo
AvaTrade is one of the oldest brokerages and comes with an excellent reputation. It has won several awards that solidify its existence as a brokerage company. With this in mind, you know exactly what to expect from the app.
The AvaTradeGo app lets you register and deposit directly from the app. Furthermore, it offers multi-lingual support via the chat that's available 24/7. You'll also get price alerts and market quotas of popular stocks in real-time.
The app offers a variety of several technical tools and indicators to help you when deciding which stock to invest in and which ones to avoid. Also, it offers an easy-to-use interface along with no withdrawal fees and much more. That's why it's one of the top South African trading apps.
eToro
This is another trading app that has a pretty good reputation. That's because eToro offers shares from 17 international markets including the ones in the UK, the US, Canada, France, Germany, Saudi Arabia, and others. It's an app that's available to Android and iOS users for free. Also, it's really easy to understand and use.


When it comes to picking the best trading app for beginners in South Africa, eToro will be on the list of contenders. But this doesn't mean that professionals can't give it a try. Some of the other benefits of eToro include the fact that it accepts bank accounts, e-wallets as well as credit and debit cards, it supports social and copy trading, and it also offers low stock spreads.
Alpari Mobile
Alpari Mobile is another trading app that you can use. It has lots of users and is great for beginners as it gives them a demo account to trade with. Also, it requires a low minimum deposit that you need to start trading with.
On the other hand, if you happen to have experience then you can also become a Strategy Manager via the app and help out other traders. With the Alpari Mobile app, you also have a diverse selection of tradeable assets as well as the ability to manage your funds, trade, and analyze the market.
IG Trading
The IG app also has a good reputation and throughout the years, many people have praised it because they can rely on it. That's because it's a heavily regulated app that offers you the ability to trade with over 16 000 markets.
Moreover, you can access interactive charts when you're analyzing a financial market, you can search for upcoming events, manage your risk via several options, keep track of open positions, trade shares with direct market access, and you can even use a daily calendar to plan. These are only some of the pros you'll have if you opt for the IG Trading app.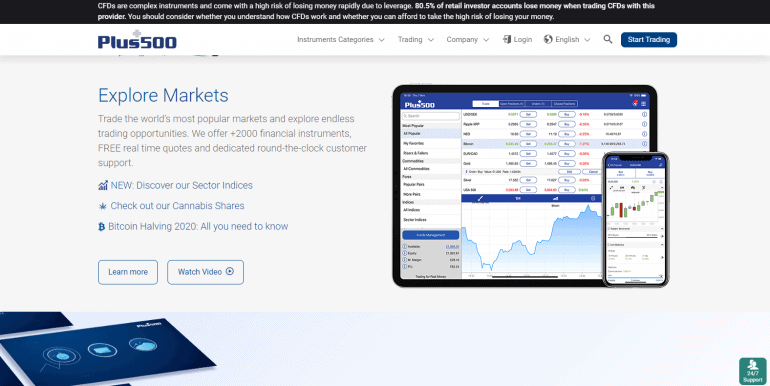 Plus500
The Plus500 app is known for being the pick of more experienced traders. Just like the other entries on this list, it has lots of benefits. In other words, the Pluss500 app lets you trade shares with the most popular financial instruments commission-free, you get information about popular stocks and indexes in real-time, as well as real-time charts when you're analyzing the market. A free demo account is also part of the benefits.
Conclusion
These are only 5 of the best South African trading apps. Naturally, if you do your research you'll also find other trading apps that can be of use to you. The important thing about picking a trading app is to do your research and think carefully about which app you choose. Your needs as a trader need to be met.