Casino games are interestingly appealing for their variety of bonus and possible big rewards. Yet, in the middle of all these enticing offerings, themes take almost all the credit. However, finding a more fulfilling theme in a day-today life is rare. But recent developments have brought movie-themed opportunities to the modern online casino to give it a new face. Here are five of the best existing movie-themed slots.
Jurassic Park
Jurassic Park is a jaw-dropping slot title from Microgaming playable on multiple platforms. It is based on Steven Spielberg's cult movie centred on dinosaurs and has five reels with 243 methods of winning. The game is highly customisable since it accommodates gameplay of 30p to £15 per spin. The game is popular among players because it features free spins and alert mode. The alert mode activation goes off when the game detects the appearance of a T-Rex. Upon this activation, the player gets 35 wild symbols throughout the next six games. The game is easy to play while still maintain its magical touch. It takes you back to 1993 movie with its rich graphics.
Terminator 2
The world of casinos has a plethora of robot-themed movies, but Terminator 2 kicks the fantasy much farther. It is the most sought-after slot-franchise in the gaming platforms. Well, there have been exiting Terminator movies, but Terminator 2 take the classic trophy home. Arnold Schwarzenegger's exiting scenes are relevant up to date, and one can get the best gaming experience out of this Terminator 2 slot from Microgaming.
Terminator 2 has two main bonuses which make a big difference when it comes to winning big. These offers are free spins to multiply your winnings and T-800, which can also earn you more free spins.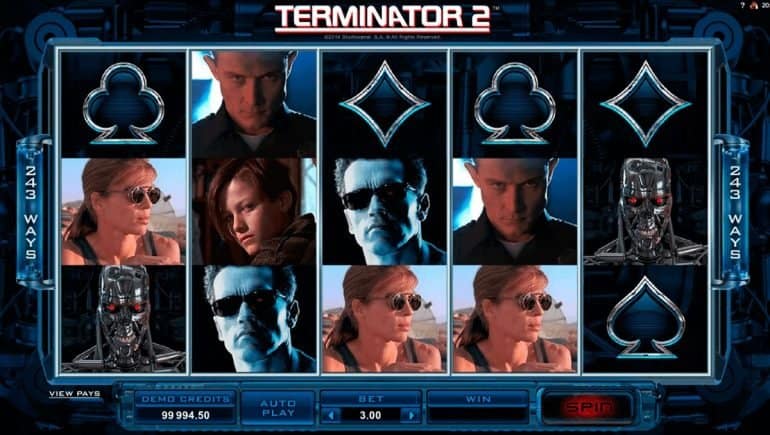 Gladiator
Gladiator is a classical movie-based slot that depicts the Roman Empire. Moreover, it is among the best movies directed by Ridley Scott. The game takes you back to the Roman Empire with its good graphics that stand the test of time. So far, the main feature that has made Gladiator the best slot game leave alone the top movie-themed slot is its wide range of bonuses. And the unique thing about these bonuses is that they defy the rule of the usual bonuses and avail more innovative ways of rewarding gamers.
Scarface
Scarface is among the best gangster movies ever produced. Net Entertainment managed to borrow some of the aspects that made this movie most outstanding of AI Pacino. Almost every symbol used in the game paint a clear picture of the legendary scenes in the movie. Scarface boasts numerous bonuses, but the most outstanding ones are free spins. A player can receive rewards of as much as 15 spins per gaming session. More bonus features include Nudge Spin alongside a unique bonus game.
The Dark Knight
The Dark Knight series brings Batman franchise back to life in a big way. The game mimics cinematic scenes and sound effects from this iconic movie. It brings with it two significant bonuses, a feature that makes it truly incredible. They are free spins and progressive jackpots. More bonus features in this game include random prizes and Batman or Joker award.