There are many genres of video slots to cater to all types of players; however, without question, one of the most popular is the movie-themed collection. From A Nightmare on Elm Street through to the Wizard of Oz, there are more than 100 slots in this niche.
To find your favourite, browse through this list of the best 2020 online casinos and see what's on offer. Here, to whet your appetite are five amazing movie-themed slots that we recommend taking for a spin.
1. Dumb and Dumber – Road Trip to Aspen
Lloyd and Harry were not only a massive hit on the big screen. This video slot is a must-play for all Dumb and Dumber fans. The reels are packed with symbols related to the movie, including Petey the parakeet, the dog-grooming truck and of course the main stars of the film – Jim Carrey and Jeff Daniels. With several bonus games on the Road Trip bonus wheel. This game will keep you entertained for hours.
2. Hitman
This is a great slot, and arguably just as successful as the movie (and video game) that it's based upon. It offers three bonus features which include 18 free spins with a 2x win multiplier. For high-octane action and the chance for some massive payouts, Hitman is the game for you.
3. Jurassic World
There have been a few slots based on this series of movies; however, our favourite is Jurassic World. With stunning graphics, Character symbols, 243 ways to win, and a generous 97.0% RTP, this is a top-quality game from start to finish.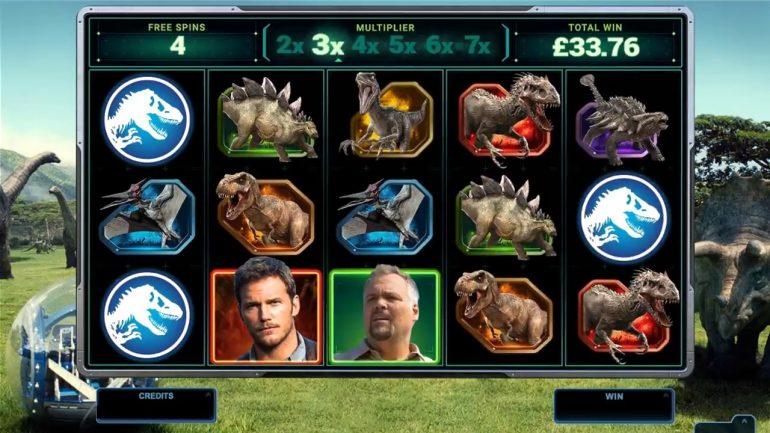 4. Lara Croft Tomb Raider
The first series of the video games were outstanding, as was the original movie. And now, the same can be said for the Tomb Raider video slot. Join the fearless explorer Lara Croft as she goes on an adventure to unlock the treasures of the tomb. With an added free spins bonus round that has a 3x multiplier, you can be greatly rewarded playing Tomb Raider.
5. Planet of the Apes
What's special about this NetEnt classic is that it's actually two games in one. There is a set of reels dedicated to Rise of the Planet of the Apes and another for Dawn of the Planet of the Apes. Each game has its own paytable so you can pick up some very tasty double wins on each win. The HD-quality symbols, background setting and soundtrack are fantastic. If you are a fan of this movie franchise, this game warrants your attention.