"For years now, I have felt a sting as Marvel and DC have poured out their entire comic roster into film. Wonderful for the fans, but every new release I silently scream 'Where's all the 2000AD?'"
Those are the words of Duncan Jones, the acclaimed director of Warcraft, Source Code and Moon. He's also taken the helm of the long-awaited film adaptation of 2000AD's Rogue Trooper, and he's more than just a director – he's a fan who wants to show the source material the respect it deserves. In his case, this included teasing the names of various 2000AD comic book characters he might consider adapting before revealing his "Nu" blue mohawk haircut – one that fans of Rogue Trooper know all too well.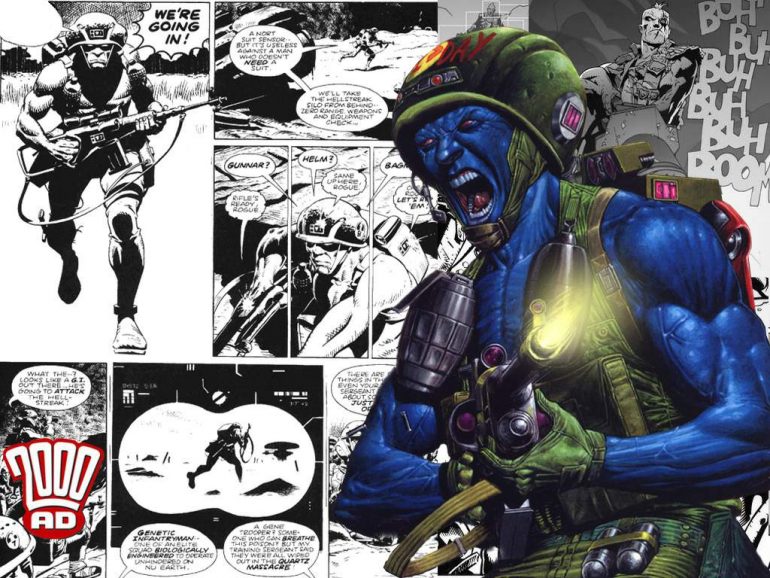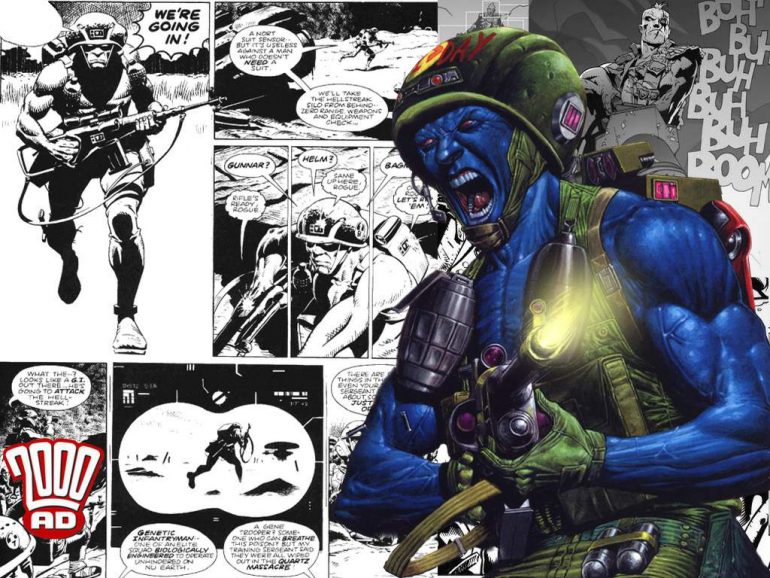 It may have seemed like a bizarre gesture to some, but for 2000AD's sense of playful anarchy it fit perfectly and Rebellion – 2000AD's publisher – gave Jones their full endorsement. This isn't Jones's first flirtation with bringing a 2000AD character to the screen though, having previously been offered the chance to direct 2012's Dredd, before the directing role was finally assigned to Pete Travis instead.
…Rebellion – 2000AD's publisher – gave Jones their full endorsement.
Rogue Trooper is a sci-fi war story that focuses on the last of the blue-skinned Genetic Infantrymen – or G.I.s for short – a soldier engineered to withstand the harsh conditions of an interstellar warzone. This lone warrior embarks on a quest to find the Traitor General who betrayed his fellow G.I.s, whilst learning the shocking truth about the war itself. His only companions are the personalities of three of his fallen comrades, which are stored on bio-chips that are placed in his helmet, backpack and gun. Created by Gerry Finley-Day and Dave Gibbons, the character has been through several iterations and has been the focus of multiple computer games.
But could this be the start of a 2000AD "universe", much like Marvel and DC have brought to the screen? Based on Jones's enthusiasm, it may well be.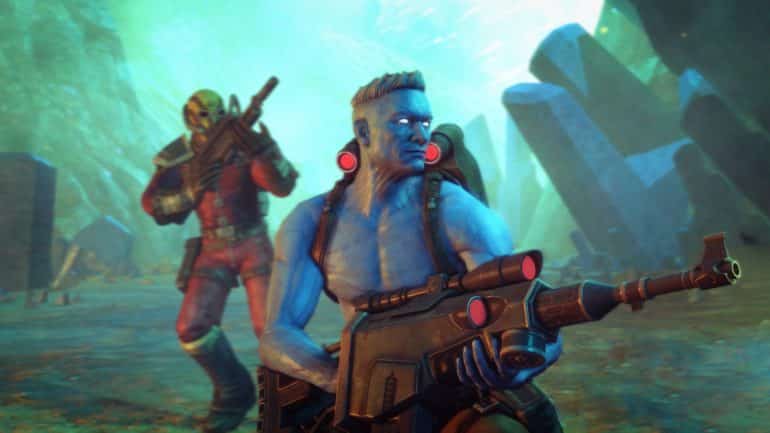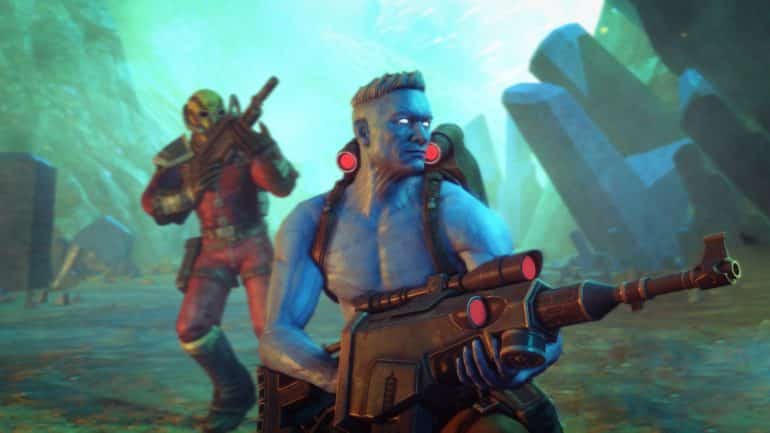 2000AD's history on the big screen over the years has so far been problematic. There was an attempt to bring a film version of Judge Dredd to the big screen as far back as the early 1980s, yet the script was apparently altered so many times that it evolved into the original RoboCop film… although early designs for RoboCop show a clear resemblance to Dredd. Later, Richard Stanley's cult sci-fi horror film Hardware was inspired by a 2000AD short story, although the acknowledgement was only made following a lawsuit.
…creating a unified 2000AD "universe" in the strict sense of the term isn't possible owing to the independent nature of many of their creations
Beyond that, the first 1995 Judge Dredd film (starring Sylvester Stallone) received a luke-warm reception whilst the rebooted Dredd film of 2012 (starring Karl Urban) was praised by fans for its level of accuracy to the source material but criticised for the lack of social and political satire seen in the comic stories… and fared poorly at the box office. Judge Dredd's on-screen adventures are set to continue, however, with the upcoming TV series Judge Dredd: Mega-City One. Meanwhile, fan films like Search/Destroy: A Strontium Dog Fan Film and Judge Minty have racked up nearly 70 000 and 780 000 views respectively on YouTube, proving that there's a genuine interest in the product.
Beyond the possibility of a Dredd sequel, other titles named by Duncan Jones as having movie potential were Slaine – a fantasy adventure about a Celtic barbarian, Strontium Dog – focusing on a team of mutant bounty hunters, and ABC Warriors – a science fiction series featuring a platoon of sentient robots. However, creating a unified 2000AD "universe" in the strict sense of the term isn't possible owing to the independent nature of many of their creations. Instead, the films would be self-contained tales under one company banner.
Regardless, the Rogue Trooper movie is now on the cards and it seems that the right person who's also a fan will be directing it. Will it lead to more films from the galaxy's greatest comic? Fans can hope so, and 2000AD's long publishing history has led to the creation of many characters and stories in a wide variety of genres. With so many comic book movies being made right now, the market may look flooded – yet with an emphasis on hard science-fiction storytelling over superheroics, Rogue Trooper could be stand out from the pack.