Over the years, board games have evolved from simple answer and question fests into complicated and involved beasts with various mechanics and hordes of little plastic or wooden pieces. And while I enjoy playing new and shiny board games just as much as the next person, there is something to be said about the simplicity of the board games of days gone by. I still have fond memories of testing my general knowledge with board games like Trivial Pursuit and realising just how little I know. So, when I received 20 Questions I was excited to dive into the world of trivia once again, for better or worse.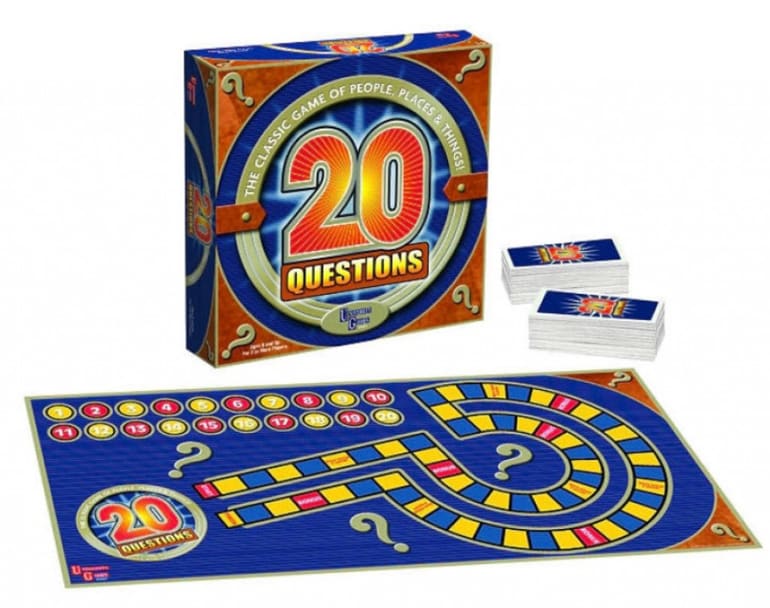 What's It About?
20 Questions, as the name implies, is all about your general knowledge and ability to put clues together in hopes of figuring out one of the game's many answers. Basically, one player is assigned a card with an answer which could be a place, thing, year or person. It's up to the other players to figure out what it is by selecting up to 20 clues.
What's in The Box?
20 Questions is one of those board games where the games simple mechanics doesn't require any fancy designed or over the top components for it to be enjoyable.
The game board consists of a question mark-shaped path (what else) whereupon players will be moving their player tokens in hopes of being the first to move from start to finish. While the design of the board is minimalistic, it is functional and easy to understand. The board itself is nice and durable with a gloss finish, making sliding your tokens across it just that much easier.
The game also comes with 300 question cards. Although these are filled with loads of text, they are easy to read and understand. The card stock used for each card has a nice thickness and should be able to take quite some punishment from overzealous players.
Along with the cards and board, there are 6 plastic player tokens and 25 plastic question chips. It would've been easy for the game to make use of your standard pawn-like player tokens but, instead, players will get to use the thematically appropriate question mark tokens that are made of the same durable hard plastic that the chips are made of.
How Does It Play?
20 Questions is a game that makes no excuses for being simplistic and easy to understand. Each round sees one player drawing a question card. This person is referred to as "the reader", which sounds like something out of a Harry Potter novel. The card will indicate what place, year, thing or person the reader is for that round. For instance, the reader could be a carpet.
The other players, referred to as the guessers, then have to place one of the question chips on the numbered spaces (1-20) on the board after which the reader will read out that numbered clue on the card. So, say the guesser places a chip on the number 10, the reader will then read clue number 10 on the card. The guesser then has 10 seconds to guess the answer before moving on to the next guesser in line.
As the name of the board game indicates, the guessers have 20 clues they can ask for. Should they not be able to guess the answer before receiving all 20 clues, the reader is then victorious and can move 20 spaces on the board. When, for instance, a guesser correctly guesses the answer after a total of 5 clues then they can move 15 spaces on the board (the number of clues left) and the reader can move 5 (number of clues given). The next person will then be a reader and a new card will be drawn.
The first person to move their player token to the finish wins the game. It's really as simple as that.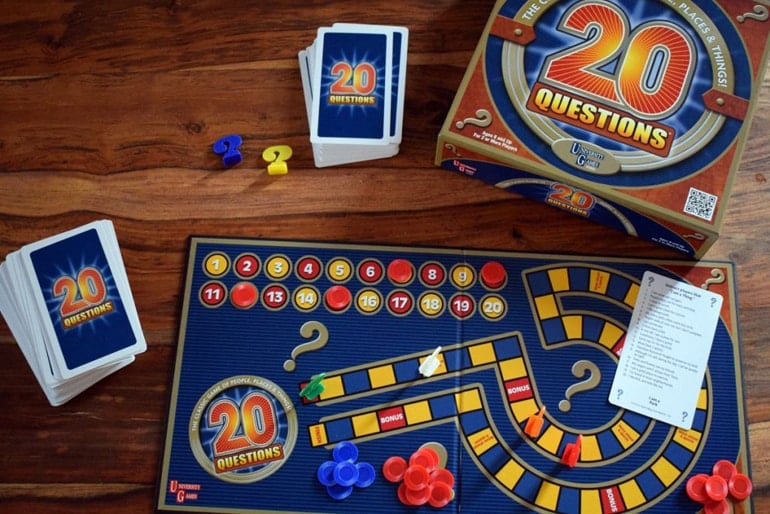 What Did I Think?
When I first received 20 Questions for review I wasn't very excited. As someone who prefers more complicated board games, I was concerned that the game would not be complicated enough for my taste. I am happy to say that I was rather pleasantly surprised. What could've been a trivia slogfest turned out to be a fun and, more importantly, a quick way of flexing your brain muscle.
Where trivia games tend to be overly long and drawn out, a game of 20 Questions plays surprisingly quick, even with the full complement of 7 players. Each turn tends to go by quickly, keeping the game flowing at a steady pace. There is little to no downtime between turns, especially since victory is dependent on guessing the correct answer as quickly as possible. This keeps every player focused and paying attention during each turn.
That said, it does fall into the trap most trivia games tend to fall into, namely that some answers can be difficult to guess, depending on your general knowledge. While we didn't come across many of these, there were a few we couldn't guess even with all the clues revealed. Another little issue is that some of the clues can be so vague that they don't really help you at all. Again, these were few and far apart, but it can be frustrating. Lastly, as with most trivia games, there is the possibility that continuous play can lead to players memorising the cards (although with 300 cards this can take a while). The game, therefore, benefits from sporadic playing sessions.
Overall, I enjoyed 20 Questions a lot more than I anticipated. It's a simplistic and quick game that makes showing off your general knowledge fun. Sure, it won't convert those that tend to stay away from these types of board games. However, if you like trivia games and having fun with a group of friends, then you should give it a try.