May the Fourth be with you! There's a lot of Star Wars out there, but with the release of the latest batch of The Clone Wars cartoons and the addition of The Rise of Skywalker to Disney+ this Star Wars Day, what better way to celebrate the day than with some binge-watching the entire Star Wars movies franchise in chronological order?
You could pick out your favourites or simply binge-watch them in order right from the start. Either way, do or do not – there is no try! Just be warned, if you do wind up binge-watching them then you may be lured by the Dark Side and realise things aren't quite how you remember them…
1. Darth Vader is the true star of Star Wars
Okay, sure, we all love Darth Vader. He's the ultimate badass villain with a booming voice and an iconic physical presence. The Dark Lord of the Sith has been simultaneously feared, respected and loved by fans since the '70s. Our perception of him has changed over the years, especially as audiences learned more about his history and grew up. It's been said that as children we're fans of the traditional heroes: Luke, Leia and Han; as we grow older and buck tradition, we become fans of the mysterious, cool bounty hunter Boba Fett; but as adults we gain a true appreciation for Darth Vader and gleefully enjoy all the menace he brings with him… even if he does ultimately become a hero again.
Binge-watching the Star Wars movies in chronological order, in order and with full knowledge of the story, makes it clear how much Darth Vader (and Anakin Skywalker) is Star Wars. Even when he's not a character in some of the stories, his character looms in spirit. Young Anakin gets a bit of flak from fans, but the entire prequel trilogy – as well as the Clone Wars series – details his journey to the Dark Side of the force in incredible depth. We never quite get to see enough of Vader in the original films but, by Return of the Jedi and with the benefit of the full Anakin backstory, we know enough to understand him as a well-rounded character. It's no wonder he's a tough act to follow for Kylo Ren.
2. The prequels are… good?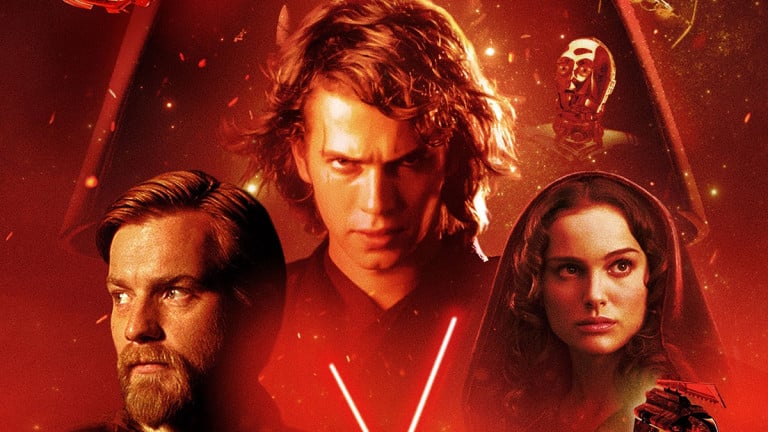 The Phantom Menace, despite being a huge box office success, was considered a colossal disappointment by many fans and with good reason. At the time of release, there hadn't been any new Star Wars films for nearly two decades and so the expectations for a pre-Rebellion action-adventure extravaganza were high. Instead, it began with talk of trade disputes and negotiations and rapidly went downhill. Its sequels dealt with politics and Anakin's clumsy evolution to becoming Vader while romancing Padme. Compared to the original trilogy, they were bland and boring.
Looking at them now after watching the Star Wars movies in chronological order, they really aren't. They're not the best by any means… although Attack of the Clones is probably the smartest of the three, with more political and personal shenanigans going on in the background than is even realised (until watching The Clone Wars animated shows). While the prequels may not match the original trilogy in terms of style or content, they actually offer a surprisingly in-depth look at the galactic situation before the rise of the Empire and give us some decent insight into the Jedi and Anakin Skywalker. They just need to be seen in the right context, and they're winners.
3. Jar Jar is okay… and Obi-Wan is an A-hole?!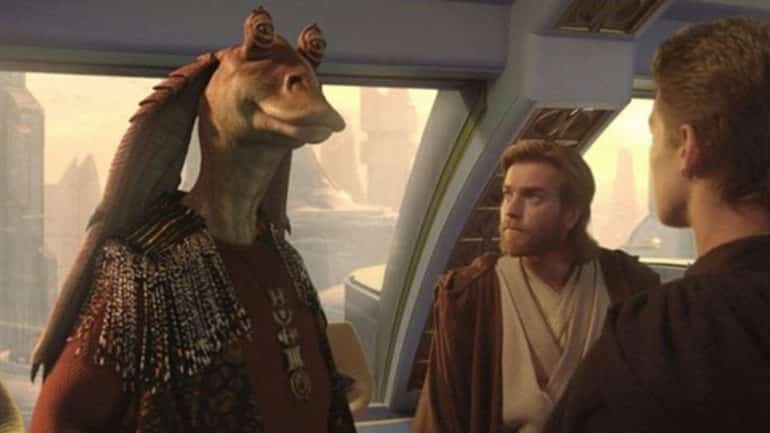 Somebody please tell me what Bizarro universe I've entered where this is true. Oh, wait, it's been true all along.
Like so many others, I absolutely loathed Jar Jar Binks. He wasn't funny, and it's hard to imagine anybody ever really liking him. Times can change though, and now I find him… tolerable. He's still an unfunny, clumsy oaf who makes me roll my eyes; but knowing that he's the one who gullibly gave the go-ahead in the Galactic Senate to implement the Clone army – and subsequently brought down the Jedi Order and the Old Republic – makes me strangely happy. It confirms my deepest belief that he was bad news from the first moment he appeared on screen. As for the positives, I guess I'll grudgingly admit that his heart was in the right place.
Meanwhile, as a kid, I always believed that Obi-Wan was pretty cool, like a wise and understanding old grandpa. His appearance in the animated Rebels shows how dedicated he was, while his tragic relationship with the Mandalorian leader Satine was a fascinating parallel to Anakin and Padme's doomed relationship. Seeing a younger Obi-Wan in the prequels, you can see him evolving in to the cool cat he became in his later life and he's one of the richest, most complete characters in the entire Star Wars series. However, his dry, unfunny sarcasm at times can be pretty annoying, and his cop-out answer to cover up his lie about Vader being Luke's dad will always be pretty weak. So yes, at times Obi-Wan can be a real A-hole… from a certain point of view – especially after watching the Star Wars movies in chronological order.
4. The "Star Wars Story" films are better than people think
Yes, they are. They may not necessarily have the intro text crawl, they may title their planets when they cut to them, and they may look and feel different from what's become known as "the Skywalker Saga", but they're absolutely Star Wars films through and through. Even if they look, sound and feel different from what fans are used to. More than that, they're solid films in their own right.
Solo, while being completely unnecessary in expanding the lore of Han Solo, is still an enjoyable heist movie. Even though it's predictable and takes far too long to get going, once Han is buddying up with Chewbacca and Lando there's a feeling that things are right. Rogue One is a far stronger film and deserves more credit than it received. Again, it's probably unnecessary – did anybody really need to see how the Rebels got the Death Star plans? – but the characters make it work and the whole film was reminiscent of Rebels, which is a very good thing. Even if nobody asked for these, they're well worth a watch and fit well into canon.
5. The original Star Wars trilogy is still the best… almost
Ah, you can't beat the classics! While many fans will say that The Empire Strikes Back is actually their favourite of the films, A New Hope is arguably the only one which works 100% as an enjoyable stand-alone film, as well as part of a trilogy, a nine-film saga, and in the overall Star Wars mythos. It's that damn good, and can't be topped. It should come as no surprise that all of the original trilogy films still work and are amongst the best of Star Wars.
Which isn't to say that they're perfect. Return of the Jedi still has the same rough edges it always did, from the Ewoks being too cute and the realisation that they may have eaten the Stormtroopers, all the way to some shoddy effects and awkward dialogue. They're still great though. As for the Special Edition work, of which the latest "MacClunky" version was now on offer, it's always a hit-or-miss affair. Nobody likes seeing Han standing on Jabba's tail, but everybody likes seeing Luke catching up with Biggs. And Sy Snootles? Given her role in the assassination of Ziro the Hutt in The Clone Wars, she gets a pass now.
6. No, The Clone Wars and Rebels are the best!
If you're a Star Wars fan but you never watched The Clone Wars and Rebels, then you've missed out on some of the best moments that the entire series has had to offer. Owing to the more long-term platform of being TV series, these shows have had more time to fill in and expand the Star Wars universe in ways that the films haven't even touched on. They've told the stories of a wide cast of both familiar and new characters, allowing for their personal histories to be explored in depth.
After a slow start, The Clone Wars developed increasingly involved story arcs, allowing fans to appreciate the importance of Bail Organa, Mon Mothma, Rex, Mandalore, Boba Fett, Darth Maul and so many others as we learned about the Old Republic and the mythology of the Jedi, the Sith and various other factions. Rebels continued that trend, showing the early days of the Empire as it slowly establishes dominance as the Rebel Alliance begins to form, along with continuations of the Mandalorians' story, Darth Maul, and even Darth Vader. The films may offer adventures and a glimpse into a galaxy far, far away, but these shows did some serious world-building.
7. Help us, Mandalorian. You're our only hope
So, where next for Star Wars? Well, the best way to get our fix is The Mandalorian, which has already proven itself to be a winner with its blend of spaghetti western storytelling and its ability to stay faithful to established canon. While the latest trilogy has been a mixed bag of re-hashed and nonsensical storylines where they appear to have made things up as they went along, The Mandalorian has continued in the tradition of the animated shows. There seems to be a genuine plan going forward, and this show isn't afraid to delve into various aspects of established lore.
It can be argued that the show is still over-hyped, and that it's only become a thing because of all the hullabaloo about Baby Yoda. While it may not quite live up to expectations, it doesn't disappoint and each episode has offered plenty of high spots. In fact, after watching the Star Wars movies in chronological order, we'll gladly take more of these instead of any new films for a while.
8. The Force Awakens is actually pretty good
This one may surprise people, because wasn't it always pretty good? Actually, no. Or at least, I didn't think so. For me, it was okay but it was the Star Wars equivalent of painting by numbers: a droid being hunted by Stormtroopers because it's carrying secret information, a person from a desert planet keen to get out into the universe, a Death Star, and so on. It offered some interesting new characters, some solid action, but it looked and felt like a theme park version of a Star Wars film. It was okay, but not great.
These days, it holds up better and I was astonished at how much I enjoyed some elements that I originally found annoying. Even knowing Rey's eventual destiny, she's even more of a barrel of fun than I remember. Finn is incredibly likeable too, and together they make a great team. Probably the biggest revelation for me though was Poe Dameron, who I kind of dismissed initially as a glorified Wedge. I liked him enough, but I just couldn't see what the big deal was. Here, now, I get it and he adds an element of excitement to the proceedings. Yes, the story is still Star Wars by the numbers, but it's better as part of the overall story rather than on its own or as part of that trilogy.
9. The Last Jedi is the best film of the third trilogy
No matter what the haters may say, it's hard to deny that there's more creativity going on in The Last Jedi than in either of the two JJ Abrams instalments. It doesn't just break out of that over-used "mystery box" storytelling format, it smashes that box to create a better path. In three simple moments, it destroys the status quo: Luke tosses away his lightsaber, Snoke is assassinated, Rey's parents are revealed to have been nobodies. All of this pulls the rug out from under comfortable viewers who think they know how things are going to end. Oh, and for good measure Yoda basically says the Jedi suck.
And he's right. The Jedi, despite their good intentions, are flawed and fallible and things need to change. Change is good, and the irony is that Kylo Ren is the only one who seems to grasp that fact – even if he's being a complete tool about it. You can see this all as subtext for change needing to happen to the franchise in general, or treat it just on its surface level, but either way it required genuine creativity to get past it. Sadly, The Rise of Skywalker wasn't up to the challenge, but leaks have shown that it was so close. And while The Last Jedi may not be the best of Star Wars films, it's easily the Empire Strikes Back of the third trilogy in terms of doing something different.
10. The third trilogy lets The Skywalker Saga down
It's been said that some film sequels are so inferior that they can bring down the originals, even if the originals themselves are cult classics. The Matrix was a legendary film, but the shoddy legacy of Reloaded and Revolutions dragged it down. Terminator and T2: Judgment Day are amazing, but all the films since have turned the franchise in to a laughing stock. Alien and Aliens were legendary, but now they're just a part of a commercially faltering film series. It's the same with The Skywalker Saga.
Watching the Star Wars movies in chronological order gives you a new appreciation for how good they are in general, and one of the biggest shocks was the improvement of the prequels when looking at the bigger picture. The third trilogy lets it all down though, and a lot of the blame has to go to Rise of Skywalker.
11. The Star Wars Holiday Special needs to be canon!
Seriously, right about now the world needs more of those Life Day feel-good vibes of the Star Wars Holiday Special. Also, whatever happened to those Ewok films like Caravan of Courage, their animated show, and the Star Wars: Droids cartoon? It's a shame that all of these apparently don't count anymore. Then again, remembering Grampa itchy on that weird VR porn headset makes us feel icky, so maybe not. Now that's the real Dark Side of the Force!
Tell us, have you watched the Star Wars movies in chronological order? What did you discover?