Rocket League is released for PlayStation 4, Xbox One, and on Microsoft Windows via Steam. It comes with the best Multiplayer gaming experience and pits you and other players against each other.
The game comes with the perfect mix of soccer and vehicle, in which you rather than controlling an athlete, control a car to make a goal. In simple words, the game is described as soccer, but with powerful cars. Up to four players are supported by its multiplayer mode, assigned to each of two different teams. After that, using the rocket-powered cars, you should hit a ball into the goal of the opponent to score points throughout the match. The game includes both modes such as Single-player and Multiplayer, which can be played either online or locally.
Also, there lots of different customization options, many different Rocket League Items. After the release of the game, later DLCs and updates enabled the ability to alter the main rules and included new modes, including ones based on Basketball and Ice Hockey.
It's Quite Simple to Learn
Yeah! The game takes hardly two-minute one-on-one session to describe its basic concept and controls to any type of player, from how to drive a car and how to hit the ball. Mainly, within ten minutes you're able to partake in competitions. The tutorial of the game is brilliantly crafted to understand the players about the basics of the game and make the master within no time.
Lots of Things to Master
In the game, some unique techniques players from all over the world pull off would blow your mind as you start playing against your friends and constantly keep learning new methods and tricks to dominate the battlefield. Definitely, you navigate the land from a third-person viewpoint, and if you're a diehard fan of soccer, then it will entertain you a lot. If you don't know, let me inform you that Rocket League serves as one of the best e-Sports titles, in which teams from all over the world participates in various tournaments based on this title for a handsome prize pool.
It costs you $9.99 on Steam, $19.99 on PlayStation Store and Nintendo Switch
The best things about Rocket League is that when you recommend this game to your friends, love or someone else, it will not place a dent on their wallet. Rocket League is available online via the Xbox Marketplace, Steam, and on PlayStation Store to purchase.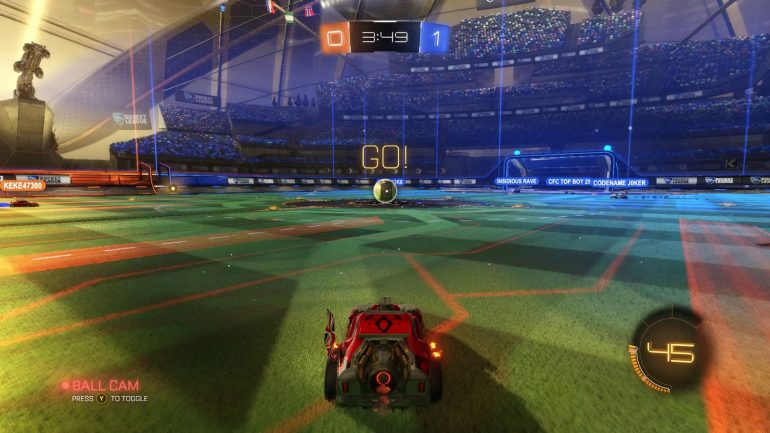 The Way You Learn is Awesome
Approximately, every single minute you play the game, you improve your skills without any hustle. In the game, your improvements are visible and obvious, but the intense gameplay force to do everything that you want to perform in order to keeps you hooked on struggling to get even more better. The better you learn, the easier you win. Just keep in mind one thing: if you don't learn the basics, you will lose again and again. So get ready to learn and then attempt to master to ensure your victory.
Lots of Variety of Discover
In the game, you have an option to play 1v1, 2v2, 3v3, and 4v4 tough matches either online with friends or locally against AI with bots. However, the skill level of the bots rely on your performance and can be adjusted according to your skill level.
Moreover, the developer has published a new mode, Ice Hockey, which is totally free to grab. That means you doesn't need to pay a single penny for its DLC packs if you purchase the main title. In another hand, you need the main release to experience all free releases.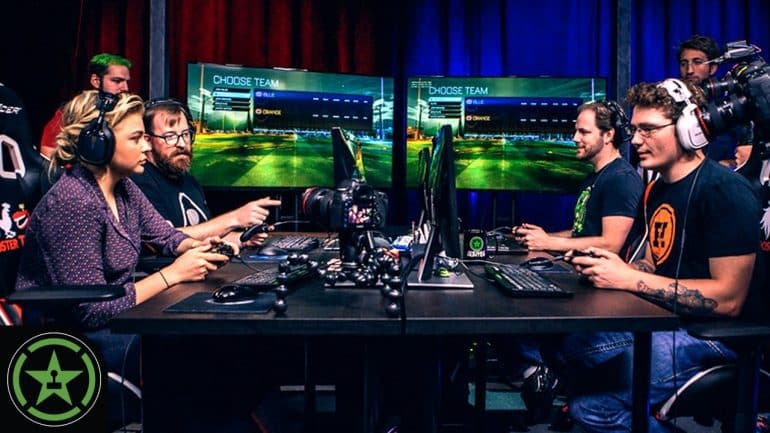 Awesome Game Modes and Features
With the perfect blend of Sports, Action, Racing, Rocket League is one of the best games that will never bore you anymore. It has several game types, and in each one, you will experience a new style of gameplay where several new things are available to discover. Let explores its Modes!
Season Mode: It will let players experience a full single-player experience where they will struggle to build up their career by completing assigned tasks and making in-game currency, which later, they can use to unlock additional content to have fun.
4-player Split-screen Mode: This mode is specially designed to provide players with the four-player gameplay experience. However, up to four players simultaneously partake in the game either online or LAN to show off their skills against each other and try to win the goal by making as many goals as possible, similar to other Soccer Games.
Unlockable Items: There are lots of fun-filled content available to unlock, including Stat Tracking, Vehicles, Global Leaderboards, Achievements, and more.
Customization: The game comes with an extensive Battle-Car Customizations allow you to modify the selected car using hundreds of trillions of possible combinations of Rocket League banners, cars, decals and etc, to make it to your dream car.
Brilliantly Modified Exquisite Cars
A huge variety of cars are available, and one of the best parts about the game is that it has no differences in terms of contact area or speed, which means that no car has an advantage over another one. However, the developer introduces special Downloadable Content Cars, including the DeLorean from Back to the Future or the Batmobile. In the start, you have an option to choose one of your best cars, and then go to select the mode, take part in the competition and show off what you are. The 3D environment will let you move or drive your car freely, but the twist of sports elements make it more challenging and touch.
The Slick Level Design
The visual details in Rocket League are just awesome, and the most extensive aspect of the game is its several grand arenas. Most of the players love Mad Max-themed Wasteland, but for your information, let me inform you that there are numerous interesting maps come with various conditions and times of the day.
An Extensive Training Mode
For those players who don't how to play the game or want to learn how to perform crazy tricks like flying using the boost, the game introduces an extensive Training mode that takes them in training area to do or whatever they are looking for. Once you're in a competition, you don't have enough time to learn basic tricks; then you must try your hard with limited skills you have to take down an opposing team to win. But as you know, it really tough to dominate the opponents without having lots of information about tricks and stunts not in this game, but in others also. So, don't be panic, go in training mode to learn new tricks, stunts, and action then participate in the tournament to turn it in your victory confirm.
Blow up Your Opponents
As it is a physics-based squad racing mixed sports game, you have an option to blast the vehicle of your rival with a little effort. How? If you boost into an opponent vehicle at high speed, you will blast his car. The feelings are awesome, and it makes your top on the leaderboard. One of the best way to eliminate your opponents from the match and then start competing against the remaining competitors.
What's New?
Challenge System: In this, you can play online matches and can struggle to complete weekly challenges to tier-up and unlock a set of rewards only discovered in Rocket Pass.
e-Sports System: Now, you have an option which can be used to show off your team pride for your best teams in Rocket League Esports. The RL e-Sports Shop Pilot Programm comes with new wheels, decals, and player banners that represent some of the best teams in this sport.