Specifications:
Type: In-ear Drivers: 8mm Connectivity: Bluetooth 4.1 Playing Time: 10 Hours Standby Time: 50 Hours Charging Time: 2 Hours
---
When it comes to wireless audio, ZAGG's iFrogz brand covers pretty much all the different requirements when it comes to your daily lifestyle. The brand features a host of options for different budgets in the process, from budget to mid-range. We've features a number of wireless audio devices on FoS, many of those from the iFrogz range (Coda Wireless Headphones, Coda Wireless Earbuds, Impulse Duo and Aurora). This time around, we feature the new iFrogz Flex Arc Wireless Earbuds, a restyled version of the original earbuds released in 2016.
Build and Design
If you've seen the original Flex Arc, you'll notice there's quite a significant change in terms of the design. The only remaining element from the original is the fact that it still uses an arc, albeit completely redesigned for a more streamlined look. Gone is the large collar. This has been replaced with a smaller, more flexible, rubberised collar, which is a lot lighter and more comfortable. Having previously owned a similar pair of collared earbuds, the Flex Arc is a lot better suited in that it flexes more considerably. This provides additional support or tolerance when users are performing any strenuous activities, especially for when you're doing a set of bench presses at the gym.
The buds are fitted with magnets, allowing the rear of each earbud to be neatly tucked away without worrying about damaging the cables.
While it may have seen a reduction in size, the level of control still remains. The unit includes three buttons on the right collar, the power on/off button, which doubles as a pairing button, as well as the volume buttons on the top and bottom, which also double up to allow the user to skip back and forth between songs.
The earbuds, this time around, do not retract back into the collar. They don't have to. Whereas the original was quite large, it couldn't waste additional space with the earbuds needing their own real estate when not in use. That said, I liked the idea of having the earbuds retract into place, as it stops any tangling of the cables that may occur, especially since the arc separation means you're not able to tie them together. To overcome this, the buds are fitted with magnets, allowing the rear of each earbud to be neatly tucked away without worrying about damaging the cables. The unit also has an IPX-2 water-resistant rating, which means that you'll be able to continue listening to your music in the harshest of weather if you so choose.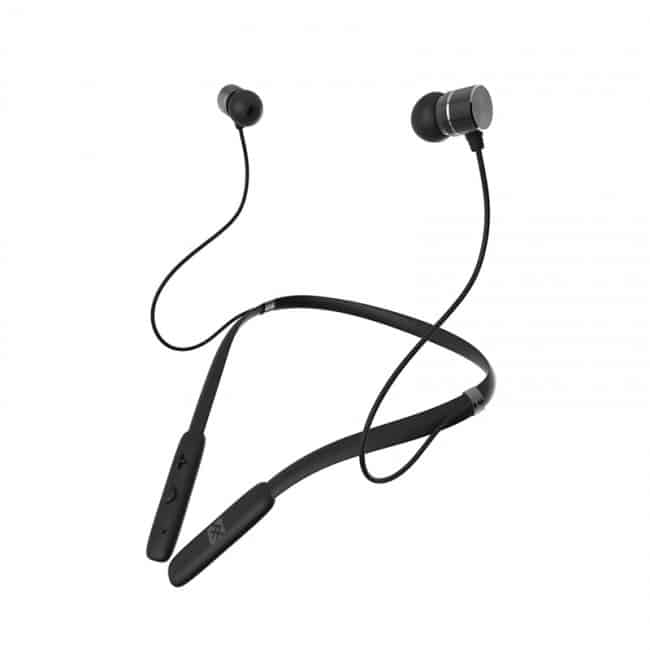 Performance and Battery Life
When it comes to overall performance, the Flex Arc does a decent enough job at producing good audio quality. It doesn't match the levels set by the Impulse Duo or Aurora, but it doesn't match the setup of those two devices. The earbuds feature an 8mm driver in each ear. The quality is geared towards higher frequencies, with focus on instrumental and vocals, rather than bass and mid-range. So, depending on your music style, the earbuds may or may not be to your liking.
The Flex Arc makes use of some technology to provide additional features such as noise cancellation, and better sound quality for your voice when answering calls. It also uses Bluetooth 4.1, which in recent months has seen quite a big improvement on Android smartphones with additional notifications from the drop-down menu, along with battery indications and the likes – information that wasn't readily available previously.
It can easily reach 9 hours of continuous audio streaming…
The battery life has a factory indication of 10 hours, which I found to be very closely matched in real-world reproduction. On the safe side, it can easily reach 9 hours of continuous audio streaming, only reaching the magic 10-hour mark on one or two occasions. This is still adequate to get you through a full day at the office, more than what's required from your wireless headsets.
Conclusion
The iFrogz Flex Arc is a dramatic shift from the original unit, offering much better styling and comfort. Designed for the more active users, and with its IPX-2 rating and lightweight collar, provides good features to make it a good partner on your next run or hitting the gym. At a price of around R600, the unit is also quite affordable when you consider many of the other leading brands that offer a similar product with similar features and quality. This makes the Flex Arc a really good buy.