Specifications:
Display: Touchscreen, Colour LCD, 1.34" Battery: 4+ days Sensors: 3-axis accelerometer, 3-axis gyroscope, optical heart rate monitor, altimeter, ambient light sensor, vibration motor, SpO2 sensor Connectivity: Bluetooth, IEEE 802.11b/g/n, NFC OS: Fitbit OS 2.0
---
As I wrote in my review of the Fitbit Ionic at the turn of the year, there's no sign as yet of the fitness industry slowing down when it comes to fitness trackers. At the same time, smartwatches have seen a similar increase in sales with the likes of the Samsung Gear and Apple Watch leading the way on this front. That said, I've never had any strong desire to ride the wave of owning a smartwatch, with the allure of prestige it may bring. In contrast, I've had some kind of fitness tracker now for the last three years, moving from the basic activity tracking at the start, to more detailed tracking in the form of monitoring my sleep patterns, heart rate, and the likes. With the release of the latest Fitbit devices, however, in the form of the Ionic, a fitness tracker with smartwatch capabilities, it changes how I would view smartwatch industry. A few weeks ago, Fitbit released their latest device, the Fitbit Versa, a more streamlined version of the Ionic, while still keeping the smartwatch moniker.

Build and Design
Having woken up to the tiny vibrations on my wrist by means of a fitness tracker for most of the past three years, the fitness tracker forms a large portion of my daily activities and monitoring. In addition to this, my active lifestyle takes me to the gym, for a run, and a game or two of football on a weekly basis. While I appreciate the features of a fitness tracker, comfort and a streamlined build are of very high importance to me. Smartwatches aren't the most compact of devices, with a few exceptions. The Versa is one such device. It bears a lot of resemblance to the Apple Watch, which isn't necessarily a bad thing, but it isn't great. I, for one, would have preferred something with a least a few more differences. That said, as with the smartphone market, how much different are you going to be able to design a new touchscreen smartwatch?
The design is simple, a perfect fit for me. Unlike the Apple Watch, however, the Versa doesn't have the same metallic frame but opts for a more affordable, lighter, anodized aluminium frame. Fitbit also claims that the Versa is one of the lightest smartwatches around, and I wouldn't bet against them on this. The unit is also available in three colour schemes, a Rose Gold watch case with a Peach silicon band, Silver Pebble watch case with a Grey silicon band, and a Black watch case with a Black silicon band. In addition to this, there are two special edition options, Rose Gold watch case with Lavender woven band and a Graphite watch case with Charcoal woven band. While the black colour palette looks rather unassuming, the Rose Gold options stand out and are able to compete in the looks department with the Apple Watch, dare I say.
The unit features a new wristband, which unlike previous models, doesn't have the simple click-in support. It's better.
The watch face is a 1.34″ touchscreen display, that's not quite square, and just short of being round. Instead, it's what Fitbit refer to as "Squircle" – a square face with rounded edges. Interestingly, the Versa has a screen size only slightly smaller than that of the Ionic, taking up a lot less real estate. While the Versa does drop a few of the features available on the Ionic, all of the important ones such as the water resistance, which allows you to go for a swim while still tracking your heart rate in depths of up to 50m. It is advisable, however, that you wipe off the band once submerged in water.
The unit features a new wristband, which unlike previous models, doesn't have the simple click-in support. It's better. The new system has a sliding spring, which you have to depress whenever you're fitting or removing the strap. From the use of my previous Fitbit units, straps tend to last roughly 12 months of heavy activity and numerous bumps in football before needing replacement as a result of the clamps no longer being strong enough to clip into position. The spring on the Versa aims to fix that, and while it already seems more secure, the verdict is still out on whether it will last longer than previous units.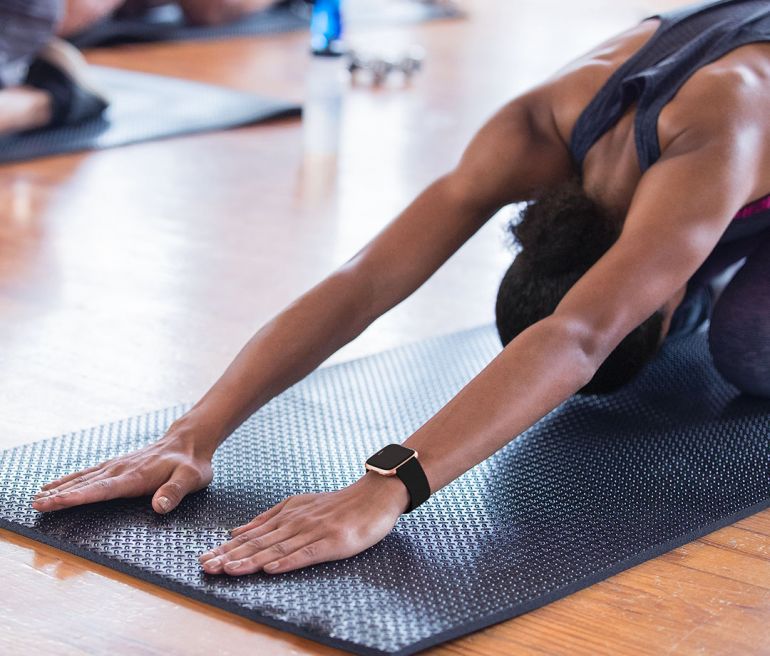 Fitness and Features
The Fitbit Versa features similar features to that fitted to the Ionic, with a few exceptions. One of the major features not to make the cut on the Versa is the GPS, which isn't a train smash. Personally, I don't find it useful, unless you're planning on running in areas unfamiliar to you. The device I received for review included the NFC payment capability, which is an optional extra. That said, until the likes of Samsung and Google Pay are made available in South Africa, or the likes of FNB, who already offer NFC payments via your smartphone, add support for the Versa, you won't be able to use this feature on our shores. Another of the features I found really interesting was the blood-oxygen sensor, but, as with the Ionic, isn't utilised as yet.
The full list of features, sensors and trackers on the Versa include a 3-axis accelerometer, 3-axis gyroscope, optical heart rate monitor, altimeter, ambient light sensor, vibration motor, WiFi antenna, the SpO2 sensor, and NFC in certain models.
There still aren't enough good apps to be considered a fully-fledged smartwatch.
The Fitbit Versa has the same OS and ecosystem as that of the Ionic, along with its own app store, allowing users to customise the look of the watch face, in addition to adding new apps that assist in your health and fitness or perform some basic task. At this stage, there still aren't enough good apps to be considered a fully-fledged smartwatch. In addition to this, while there's a large list of watch face options, not all of them are up to standard. After trying a number of beautifully designed faces, I decided to revert back to the Fitbit-developed options, due to it performing a lot better. Part of the issue is derived from the stats dashboard on the device, which can be accessed by swiping up, to reveal your summary of the day's steps, heart rate, hourly progress and the likes. One of the new features added to Fitbit OS 2.0. The issue here is that it isn't a simple swipe as part of the GUI, but rather seeming to open an app to provide you with the necessary information. This means that when you're done, the device has to close the app and reload the main watch face, which then causes a few issues with some of the community customisations, often times freezing, or forcing a reboot of the device. This isn't a reflection of Fitbit's abilities and support, but rather lack of fully implemented apps to choose from.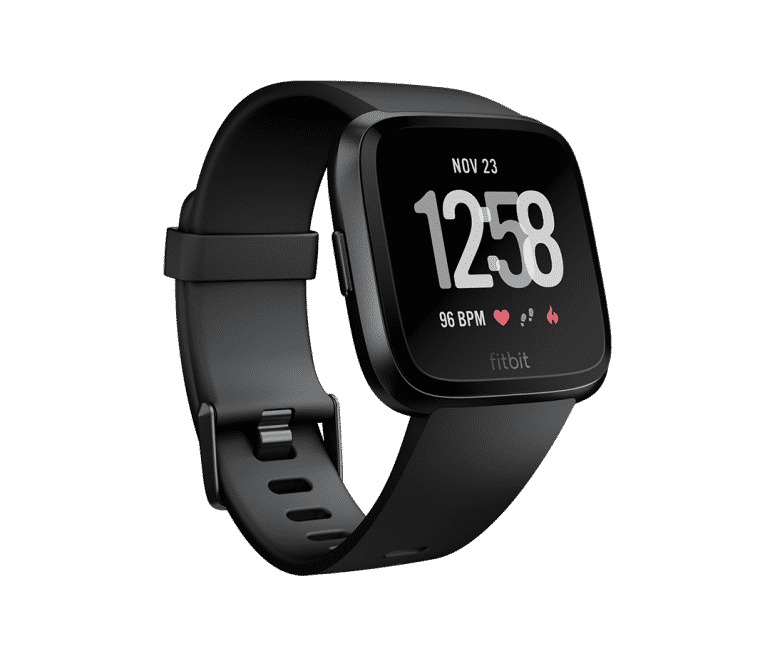 In Use and Battery Life
The OS and GUI itself seem a lot more efficient, providing a few better shortcuts to start your activity tracking and other tasks you wish to commence. There aren't any specs available to do a direct comparison in terms of the CPU and performance on paper, but from general observations, the Versa seems better in terms of overall performance, most likely as a result of OS tweaks and updates with the release of Fitbit OS 2.0. The OS update does a lot better at displaying and accessing your daily stats and progress throughout the day, something that allowed me to engage and make a conscious effort to do better.
Another of the useful additions is the updated notifications menu. The notification panel forms something resembling the drop down on your smartphone, where you're able to scroll through your recent emails, SMSes, or any other apps that are able to send notifications, even games. Fitbit has also indicated that improvements to the notification panel is set to release in May, which allows users to create a quick reply response and respond directly from the drop-down menu from the Versa and Ionic. In addition to this May update, Fitbit will include a few women's health options and features, which will add capabilities of tracking their cycle, pregnancies, and a host of other capabilities. This is pretty impressive additions for devices that often come across as being male-oriented, or at best, asexual.
Fitbit will include a few women's health options and features…
The Fitbit Versa auto-tracks your activities without requiring a prompt from the user, with the requirement that at least 10 minutes have elapsed before the end. Already an owner of a few Fitbit products, the smartphone interface isn't any different from any of the other devices. The difference with the Ionic and Versa is that you don't necessarily require a smartphone to do any of your trackings or viewing your stats, as both devices are able to store up to seven days of stats, ranging from your heart rate, activities, sleep, and more. In addition to this, the device also stores a summary of the last 30 days of your activities, without the intricate details as with the 7-day report.
Further to the previously mentioned Fitbit ecosystem, there is a noticeable increase in options to choose from. While you're only able to access the app store by means of the Fitbit app on your smartphone, it's still an improvement. Many of the top developers have also come on board with apps such as Yelp, Nest, Philips Hue (allowing you to control your connected home's lights directly from your watch), Flipboard, numerous calculators and flashlights. There's still a lot of work to be done in this area, more so than any other of the features available, and something I'm sure Fitbit is heavily engaged with, even as I write this.
When it comes to battery life, the Versa has an indicated lifespan between charges of just over 4 days. This is true for periods where not a lot of activity is achieved but drops to about 3.5 days whenever I ran, hit the gym, and played football in three consecutive days. The Ionic ekes out a few more hours in this comparison, lasting up to a day longer, with my assumption that it has a slightly bigger battery capacity. Charge time varies, taking around two hours to complete from a complete drain to full charge, which isn't advisable.
Conclusion
The Fitbit Versa isn't a complete game changer, but it is a defining point for Fitbit as a company. With the success of the Charge 2, the Versa is capable of delivering similar performances and features of the Ionic at less than two-thirds the price, and only R1,000 more than the Charge 2 itself. That is great value and even greater affordability. My early bet is that the Versa will compete well in the market thanks to its good looks, good OS and functionality, and great pricing at R2,999.
While many users may question the company's decision to remove certain features such as the GPS while leaving the NFC support, from my personal experience, the GPS is a near useless and battery hungry capability not everyone needs, especially on your daily route. I'm more than happy to recommend the Versa from my experience with it over the review period and, with the addition of the female-centric features on its way, there may be further reason for half the world's population to consider it.