---
The issue of Superman fathering a child has been the subject of some debate. Is it possible? Well, yes and no. In the case of procreation with an Earth woman, it has been established in more recent comics that Kryptonian and Terran DNA are incompatible. But there have been many comics where that's not the case. Superman has fathered the children of Lois Lane, Wonder Woman, and a few other women. He has also adopted children and helped raise his own cousin, Supergirl. Here are a few examples of Superman as a father through the years…
Superman has been going through some big changes with DC Comics' Rebirth. He is now married and even has a son.
Of course, it's not the first time we've seen Superman as a father in recent years. In Bryan Singer's Superman Returns, The Man of Steel also has a son with Lois Lane named Jason White. The young boy also showed signs of strength and power when he caused a piano to crash into one of Lex's goons. Of course, the boy also shared his father's buffoonery as Clark Kent, by constantly sneezing and huffing due to his allergies. Then there was also that heartbreaking moment, where Superman recovered from his death and returned to the boy's room to utter the words of his very own Kryptonian father Jor-El:
You will be different, sometimes you'll feel like an outcast, but you'll never be alone. You will make my strength your own. You will see my life through your eyes, as your life will be seen through mine. The son becomes the father and the father becomes the son.
It seems Superman has always been seen as a father figure to comic book readers and fans. The question is whether or not he is fit to be a father. With the responsibility of saving so many people's lives, is Kal-El able to balance fathering a child and being Superman?
Below is a list of some of the children Superman has fathered over the years:
An adopted son, Tommy in Superman #57 (Mar/Apr 1949)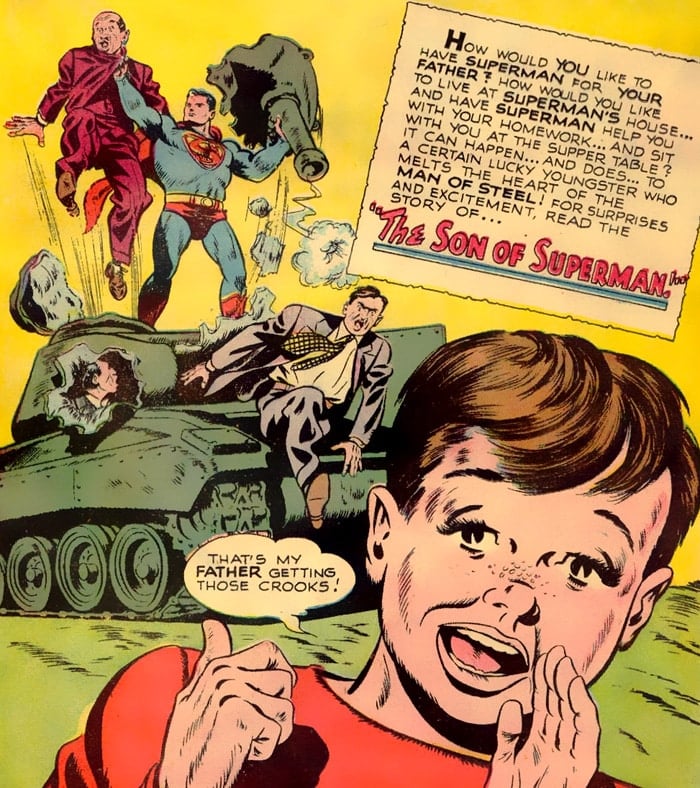 Adopted Baby Bliss in Action Comics #217 (June 1956)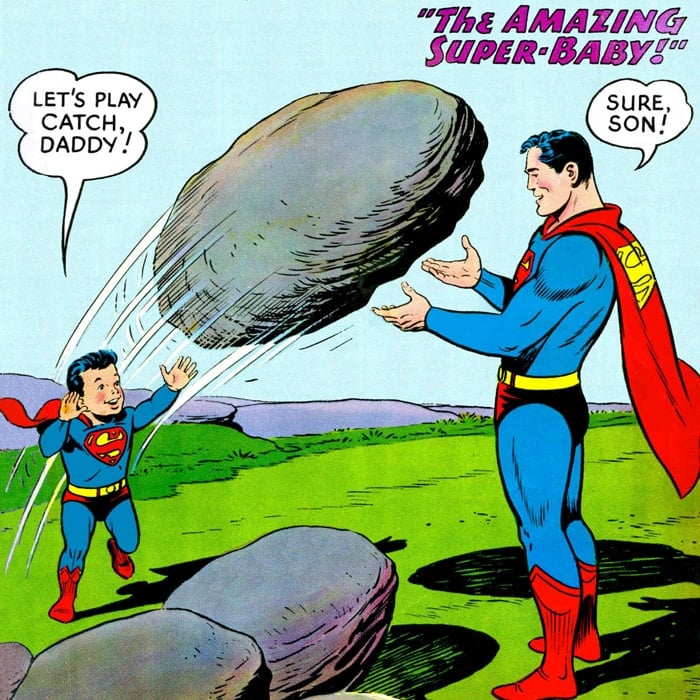 A son with Lois Lane in Showcase #9 (August 1957)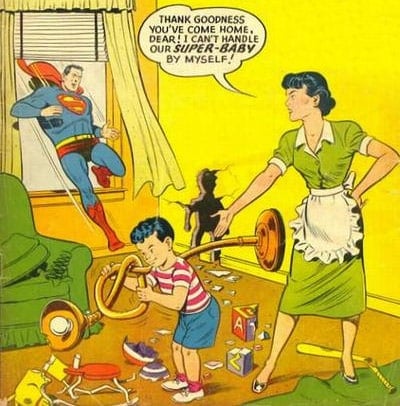 Adopted son, Johnny Kirk in Action Comics #232 (September 1957)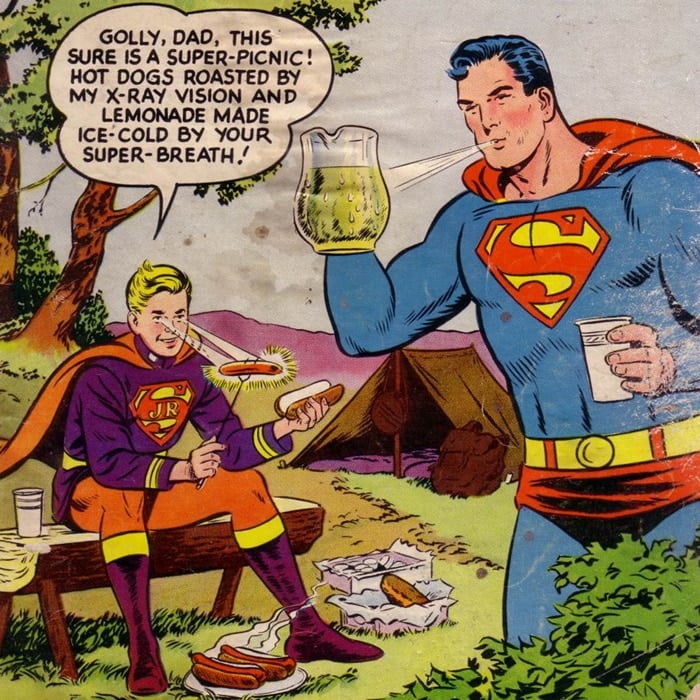 Adopted Jimmy Olsen in Superman's Pal Jimmy Olsen #30 (August 1958)
Robin as Superman Jr in Superman's Girl Friend Lois Lane #6 (January 1959)
Twins, with a mystery woman in Superman #131 (August 1959)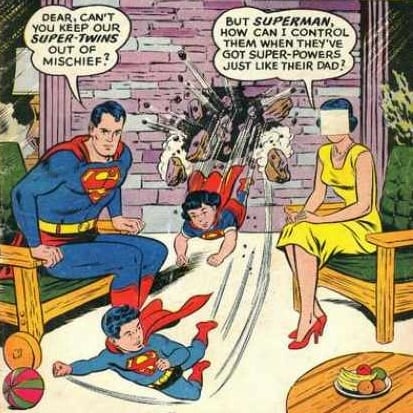 Lyle and Lili, in Superman's Girl Friend Lois Lane #15 (February 1960)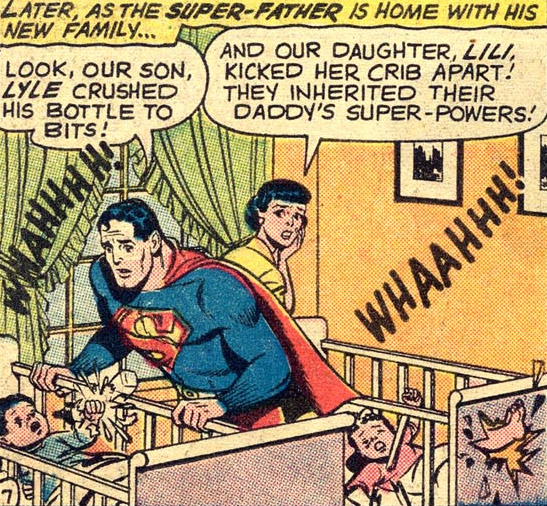 Adopted Supergirl, with Lois Lane in Superman's Girl Friend Lois Lane #20 (October 1960)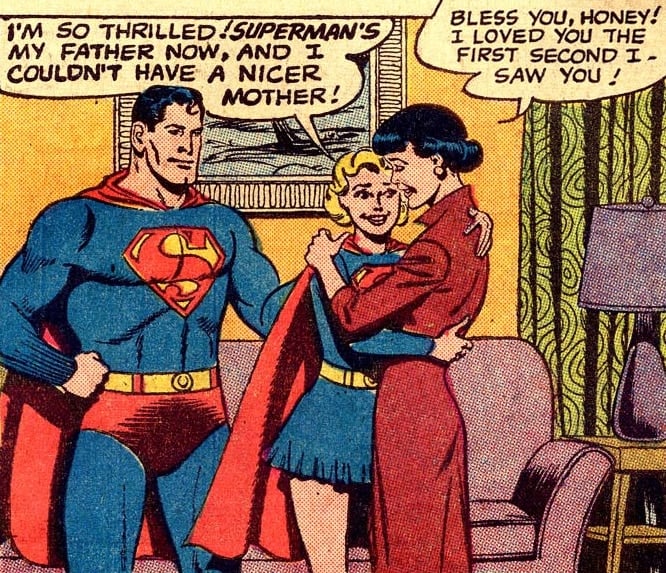 Krypto's fantasy, in Superman #141 (January 1961)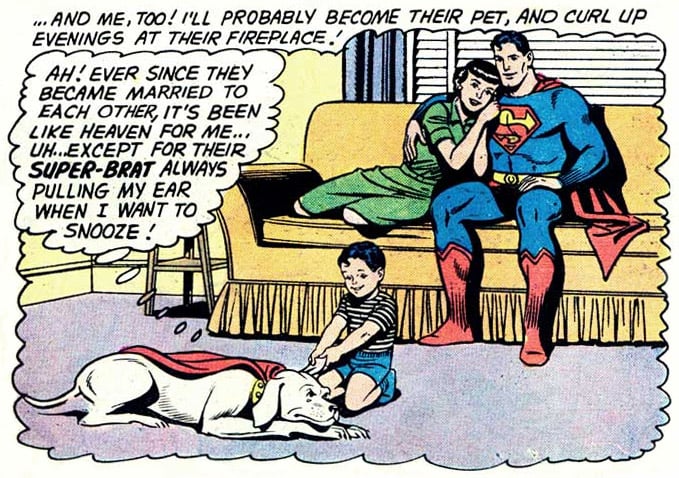 Larry and Carole, with Lois Lane in Superman's Girl Friend Lois Lane #23 (February 1961)
Lola Kent (Supermaid), with Lois Lane in Superman's Pal Jimmy Olsen #56 (October 1961)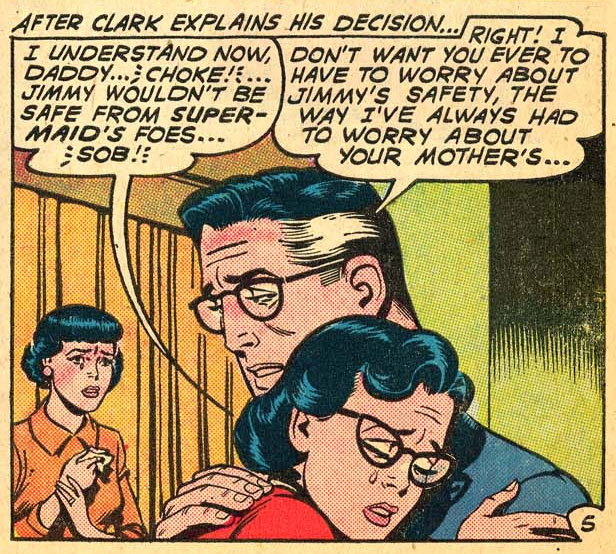 A son, with Mooki (a mermaid) in Superman's Girl Friend Lois Lane #30 (January 1962)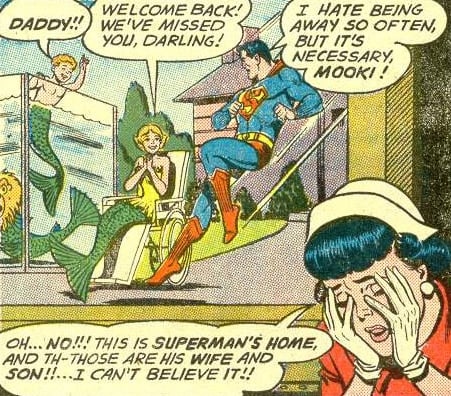 Larry and Carole, with Lois Lane in Superman's Girl Friend Lois Lane #36 (October 1962)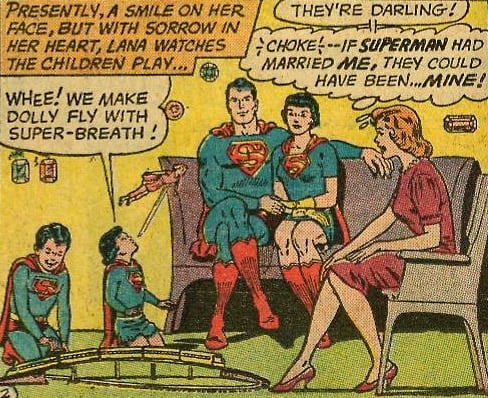 Larry, with Lois Lane in Superman's Girl Friend Lois Lane #39 (February 1963)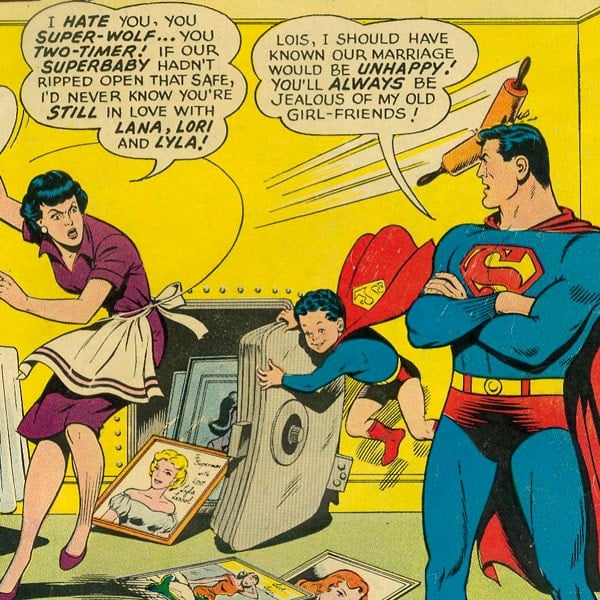 Two sets of twins with Lana Lang (as Superman Blue) and Lois Lane (as Superman Red) in Superman #162 (July 1963)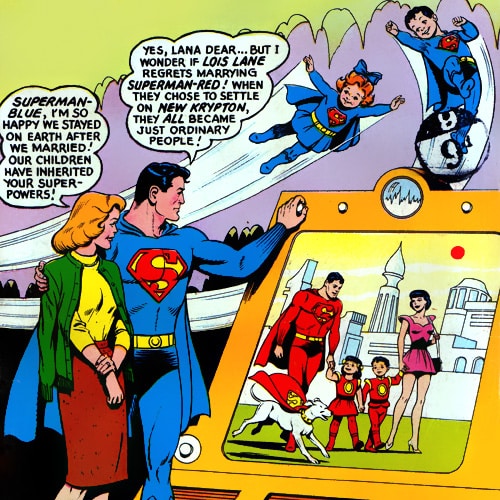 Kal and Jor, with a mystery woman in Superman #166 (January 1964)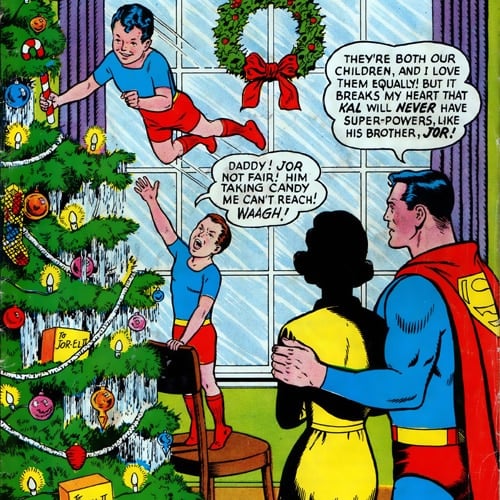 Twins, with Supergirl in Superman's Girl Friend Lois Lane #55 (February 1965)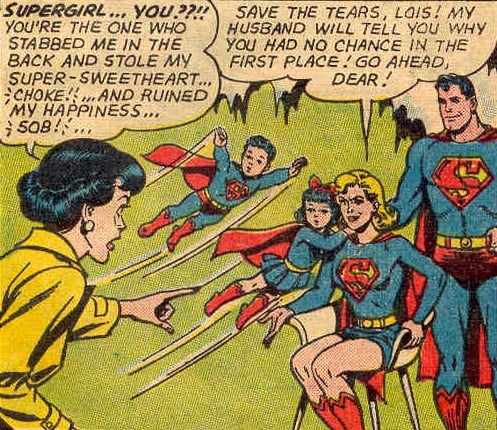 Lisa (Superlass), with Lois Lane in Superman's Girl Friend Lois Lane #91 (April 1969)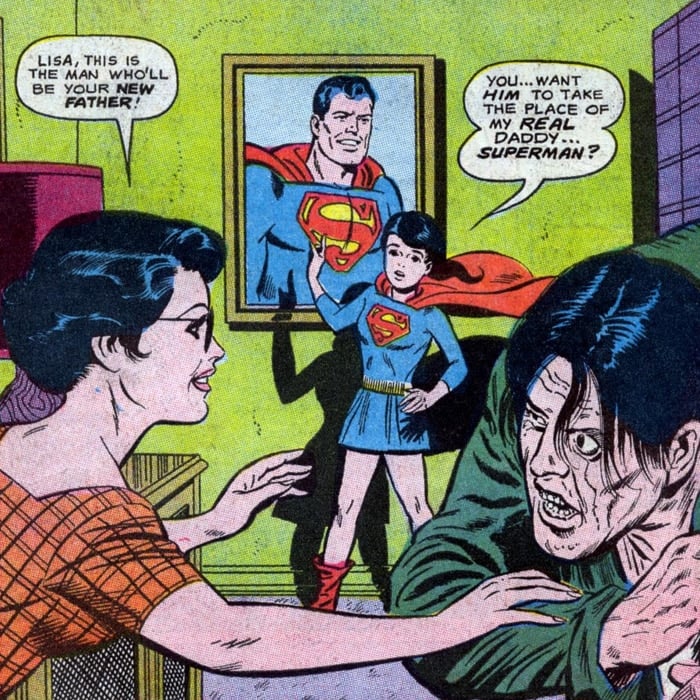 Laney, with Lois Lane in Superman #215 (April 1969)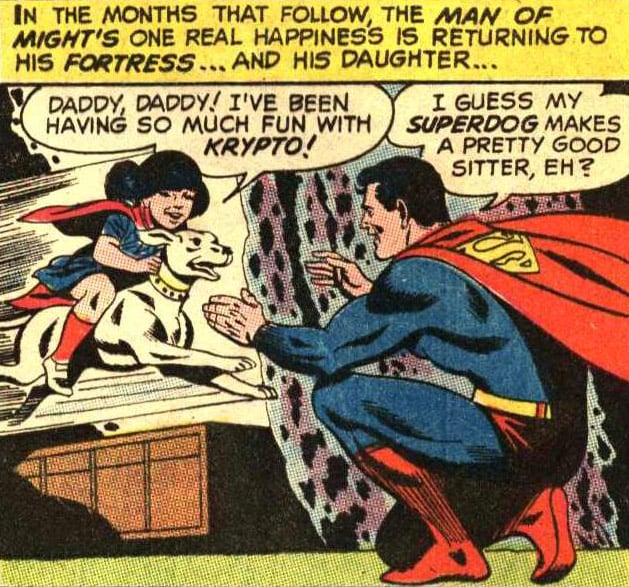 Carl, with Larissa Lenox in Superman #218 (July 1969)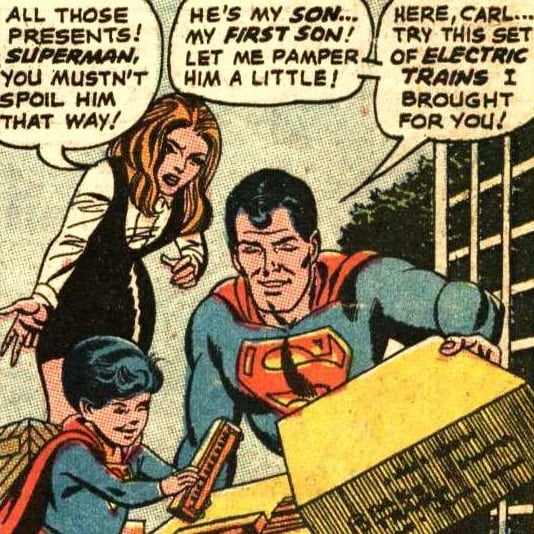 Adopted Gregor Nagy in Action Comics #400 (May 1971)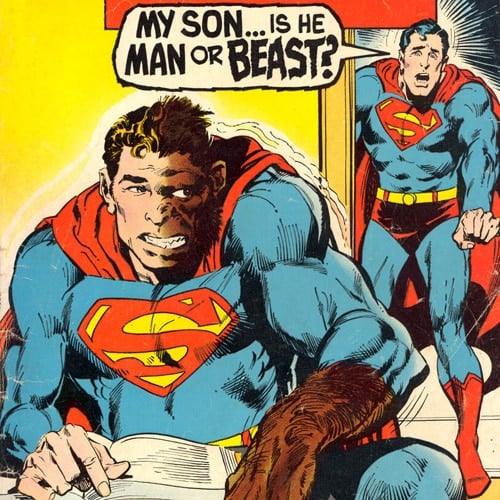 Clark Kent Jr, from the Super-Sons team in World's Finest Comics (January 1973)
Ariella Kent, with Linda Danvers (1998)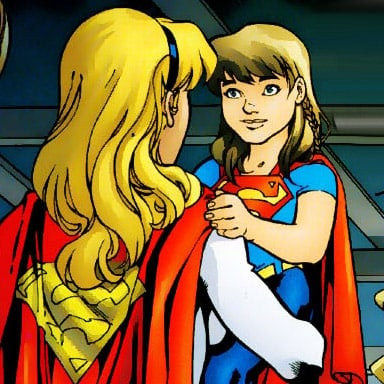 Joel Kent and Kara Kent, with Lois Lane in Superman & Batman: Generations (1999)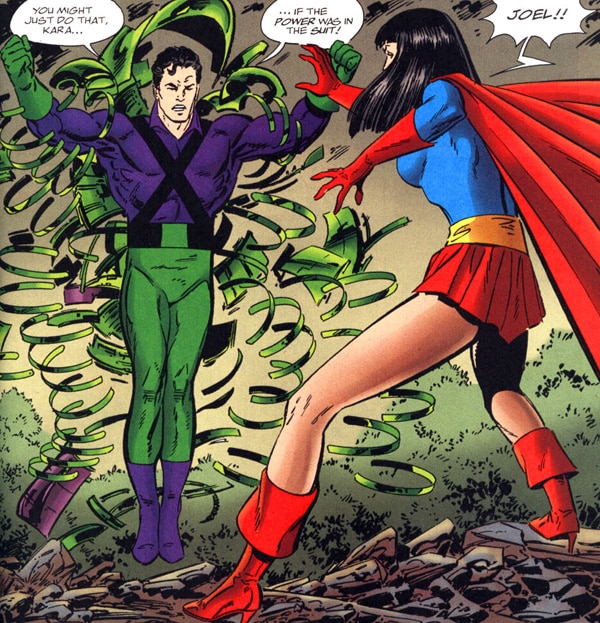 A son, with Wonder Woman in JLA: Act of God (2000)
Lar-El and Vara, with Beautiful Dreamer in Superman & Batman: Generations 3 #10 (December 2003)