Studio:
Marvel Entertainment, Marvel Studios
Format:
3D Blu-ray + Blu-ray
---
Story: 4 / 5
Video Quality: 4 / 5
Audio Quality: 5 / 5
Extras: 4 / 5
The Mighty Avenger, Thor, has returned with an all-new cinematic adventure, and now you can bring the action home yourself, in glorious 3D! Asgard has never looked as good as it does on Blu-ray. Whatsmore, the blu-ray is packed with featurettes worth watching and owning.
The Story
Chris Hemsworth makes a robust return for more intergalactic brawling in Marvel Comics' hammer-hurling solo sequel featuring the thunder god and Norse deity, Thor. Thankfully, the post-Avengers The Dark World, a briskly amusing blend of science fiction and fantasy, comes packaged in a bigger, better and more lavish box this time around. From the very first opening moments of nerdy glee, which lends ingredients from The Lord of the Rings, Hellboy and Masters of the Universe, it cements the comic book hero as the new cornerstone in the impervious Marvel Studios' current pantheon of superhero blockbusters.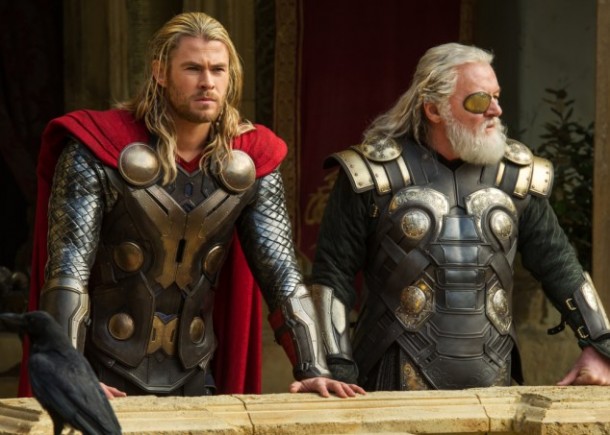 Jane Foster: I saw you with the Avengers in New York!
Thor: I was defending the Earth!
Jane Foster: Is that your excuse?
Shackled by a desire to deliver a more promising outing this time around, new director and Game of Thrones veteran, Alan Taylor defies the odds by improving on the foundation built by Kenneth Branagh, conveying a buoyant and self-aware visual showpiece that stomps the previous Marvel line up (excluding Iron Man and Avengers). Paying attention to the cries of dedicated fans, The Dark World promises more Asgard and less Earth, subsequently qualifying it as a space-bound adventure where space ships, aliens and glistening castles abound.
Most of what worked in the original works again in the sequel. We pick up the story shortly after 2012's Avengers Assemble, with horned villain Loki (Tom Hiddleston) banished to a deep dungeon within Asgard's prison. While the chiseled blonde Thor battles to reunite the Nine Realms, Jane Foster (Natalie Portman) has set up post in London, studying anomalies and trying to find a way back to her knight in shining armour. It's not long after that an ancient enemy (Malekith, an evil Dark Elf) arises to threaten the people of Earth and Asgard once again. Of course, all this leads to the return of the hammer heaving superhero, who finds himself facing off some of the galaxy's most powerful baddies. But truth be told, they're merely a distraction to the real fight; Thor's battle to win Loki's trust.
Loki: Look, why don't you let me take over? I'm the best pilot in Asgard!
Thor: Yes, but out of the two of us, which can ACTUALLY fly?
While the first movie proved a bit of a bore, this time it moves at double speed. The Dark World is completely fun. Hemsworth has wholly embodied the character and Taylor provides sufficient flashes of humor (a lot of madcap one-liners from Kat Dennings) and action to keep audiences engaged and entertained. Whether this is done through a brief cameo by another superhero, a Stan Lee cameo or through the unconventional romance between Jane and Thor, it's all handled with enough class to ensure a good time at the movies. The Dark Wold is an enjoyable, emotionally engaging sequel that delivers on thrills, spectacle and laughs in equal measure. Highly recommended.
High Quality
The 2D and 3D image of Thor: The Dark World transfers provides consistently faithful high detail – crisp, razor-sharp and remarkably defined. Offering rich black levels and excellent contrast, pores are visible and you can even see fine individual hairs. It comes to Blu-ray in 1080p AVC MPEG-4 encoded video, with a 2.40:1 aspect ratio. Both the 2D and 3D versions offer the highest grade of picture quality, a quality that we've grown accustomed to with Disney releases. Unfortunately, the 3D post-conversion isn't that great and this results in pretty average depth. But just like the sequel is a major improvement over the sequel, the same can be said about the Blu-ray releases.
Audio Quality
The thunderous DTS-HD Master Audio 7.1 track does what it should and will rock everything in your living room – breakable ornaments beware. Putting the low and high end frequencies of your sound system to work, the surround sound is perfectly crafted to create the best possible musical and sound experience. The sound staging and sound effects are excellent and both the front and rear channels are seamlessly integrated. Dialogue is clear, crisp and always audible. Accompanied by a fitting soundtrack, Thor: The Dark World's audio sizzles on Blu-ray.
Extras
The extras can be found on the Blu-ray disk (the 2nd disk) and there are quite a few gems to be found here. Marvel One Shot: All Hail the King is certainly the highlight and offers a few really cool surprises.
Audio Commentary
Marvel One Shot: All Hail the King – 14 min short film
A Brother's Journey: Thor & Loki – 32 min featurette
Deleted & Extended Scenes – 8 min
Scoring 'Thor: The Dark World' – 4 min
Captain America: The Winter Soldier' Exclusive Look – Full HD trailer
Gag Reel – 4 min
Conclusion
The Thor: The Dark World 3D Blu-Ray is certainly worth adding to your growing Marvel Universe collection. The film itself captures some really cool moments, while the video and audio quality only further enhance the onscreen action. While there could be improvement in the 3D quality, this disk does enough to keep audiences entertained with its 3D depth.