Number of Disks:
1 Blu-ray
---
Story: 4.5 / 5
Video Quality: 5 / 5
Audio Quality: 5 / 5
Extras: 4 / 5
The Conjuring is, yes, another ghost haunting story with some possession thrown in. Similar camp-fire tales have been told over, and over, and over before, but this one is different: it's from the real-life case files of paranormal investigation forerunners, Ed and Lorraine Warren. The Warrens had investigated The Amityville Horror as well, but The Conjuring is one of their hands-on cases.
THE STORY
The story is simple enough; a family of seven move into their ideal home, a large and secluded house in the country. The mother stays at home with the kids, and the father works cross-country driving jobs and takes any shift he can get in order to keep up the house payments. Right off the bat strange things begin to occur which affect both home and family. The Warrens are called in to assess the house, only to realise it's haunted by a vicious entity. The movie's plot not only deals with the family's circumstances, but with those of the Warrens' and with one of their previous cases. Who better to investigate your haunted house than those with their own haunted pasts?
It's not the way in which the story is written, but rather how it is told that adds a new twist. Instead of a family fighting to survive, with some other characters tacked on to send up the body count, The Conjuring is told from the Warrens' perspective and how they try to help a family in need.
Both Lorraine (Vera Farmiga) and Ed (Patrick Wilson) Warren bring a depth of realism and emotion to their investigative roles and the movie, which the family itself can sometimes lack. Lili Taylor's mother role brings across love and compassion for her five on-screen daughters, but Ron Livingston's father character is stilted and wooden. He comes across as caring very little about the others or their circumstances – maybe Livingston wasn't being paid enough? Additional roles, such as a local police officer, and an assistant to the Warrens add some light-hearted humour when needed.
A lot of horror movies rely on either gore, or instant shocks – with the use of a louder than average instrumental backing – in order to scare audiences. While The Conjuring may be guilty of the latter in one or two places, director James Wan (Dead Silence, Insidious) insists on building suspense and scaring you when it's least expected. It gives a perfect flow and pacing to the film. Each piece of music only adds to the dark tone of the movie, and thankfully no Hollywood-influenced backing vocals were used to detract from the horror movie feel.
The main set – a large house based in Rhode Island – uses the external for filming, and an amazing replica actually built on a sound stage for its internal shots. It's not something you'd pick up given the quality of the construction, and attention to detail as well. The last time I saw a house like this was 2003's The Texas Chainsaw Massacre, which used a real, dilapidated house for filming. The house offers a homey feeling for the family, while its dark inhabitants are allowed equally dark and dingy areas when required. Rhode Island's autumn countryside is a stark contrast to what lurks within the depths of this specific house.
VIDEO QUALITY
Your 52 inch LED HD screen won't go to waste on this movie. It is presented in a 1080p (16:9) format with an excellent transfer. The dark tone of the movie allows for blacker blacks – something that is a necessity in horror films. It's not a 3D movie, but I couldn't imagine it being any good as one.
AUDIO QUALITY
Unfortunately, I don't have a full audio setup to enjoy The Conjuring's DTS-HD audio mix, but I watched with my setup of choice: headphones. Even with a non-digital system the movie's soundtrack and sound effect don't fail to convey its bleak and scary tones. Maybe watching this alone, in the dark, and with headphones on wasn't the best way lighten some of the movie's scares?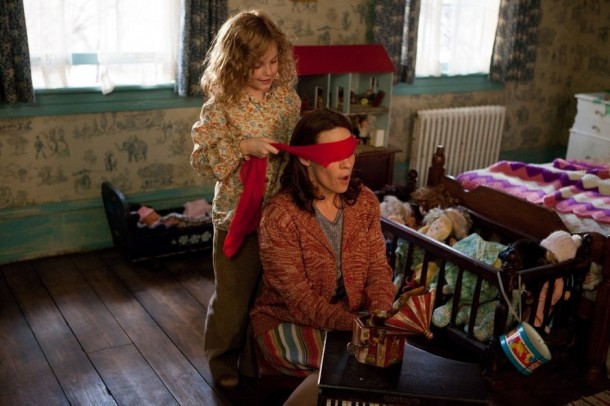 EXTRAS
This Blu-ray edition includes the following three features:
The Conjuring: Fact-To-Face with Terror – a feature on the original family. It's interesting to see what has become of the family, and how they have handled these events.
A Life in Demonology – a feature about the Warren's history, and their work with the paranormal.
Scaring the "@$*%" Out of You – the making of The Conjuring, which includes the interesting ways in which director James Wan builds fear and tension during the movie.
I would have liked a little more information on the Warrens and their past cases, as well as some more meat on the movie's background and origin story.
CONCLUSION
The Conjuring is a story with a lot of heart, execution and production values to die for. It's a movie that not only deserves a watch alone, in the dark, and with the volume up, but a Blu-ray or DVD purchase as well. It's horrifying.