Studio:
Sony Pictures Animation
---
Verdict: 3.5 / 5
There is nothing more creative than having a scientific contraption that can convert moist weather into food precipitation. The thought of having an open bar available to you anywhere you go is an ingenious idea and that idea was brought to life with the release of Cloudy with A Chance of Meatballs back in 2009. Now, 5 years on, we catch up with the residents of Swallow Falls to find out what the future holds for them after surviving an almost catastrophic mouth-watering unnatural food disaster in Cloudy with A Chance of Meatballs 2.
Guest review by Tshego Motiang
Following the destruction (or so they thought) of the FLDSMDFR (Flint Lockwood Diatonic Super Mutating dynamic Food Replicator), Cloudy with A Chance of Meatballs 2 continues on from where the first installment ended. With the island in need of a huge clean-up operation, the residents are vacated as Live Corp Company steps to offer their services. Flint Lockwood is finally recognized as an inventor when he is invited to work for his hero Chester V, a dream come true. However, Flint discovers that his infamous machine is still operating and is now creating delicious yet dangerous "foodimals" (food animals), who are intending on taking over the world. With the help of his friends, and a couple of his unsuccessful inventions, Flint returns to Swallow Falls to embark on a deadly dangerous mission, to once again, save the world.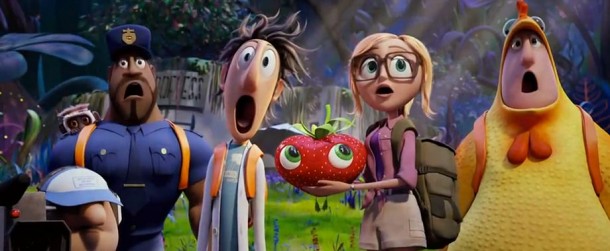 Watching the animation was a definite eye treat. Although the plot may be clichéd, it is the extraordinary visuals, the sharp and witty pun filled dialogue and the humorously entertaining storyline that keeps you engaged till the very end. What the film lacks in suspense (you already know that something is wrong and that Flint is being tricked from the very beginning, you just don't know why), the film makes up for with a good dose of good old silly fun. Personally I enjoyed the first installment, however, the film is definitely a great feel good, family friendly, fun animation and there are enough laughs in it to confidently encourage you to go and see it – you will enjoy it!
[yframe url='http://www.youtube.com/watch?v=jw6dECrl-BE']