Pages:
ISBN:
---
Storyline: B
Artwork: A
The Ninja Turtles find themselves in unfamiliar waters as they are teleported to the year 1762, a time when the seas where ruled by only the most powerful and popular pirates.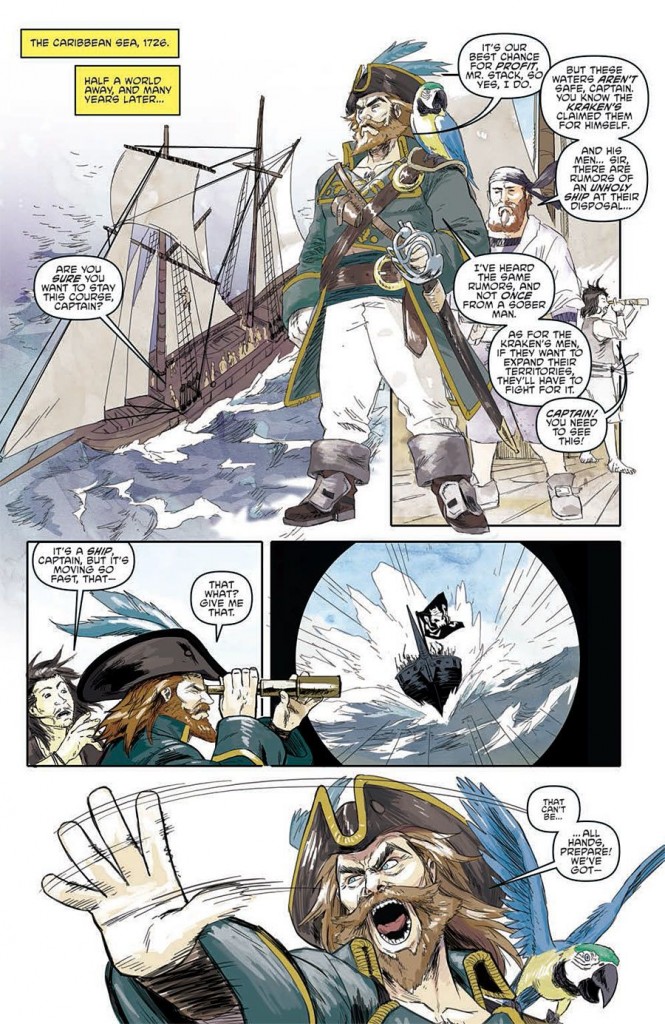 But all, pirates and sailors, alike live in fear of the Kraken. Will the Turtles be able to set sail in the right direction, or will the Kraken sink their ship?
The Teenage Mutant Ninja Turtles teleport straight out of Feudal Japan and find them aboard a ship in the Caribbean, one that is being pursued by the Kraken and his minions. Yes it would seem that the Kraken is in fact not a creature of myth. Instead it is an advanced criminal mastermind; an entity with followers ready to die for its causes. Donnie notices something very strange as unlike the other ships of this time, the Kraken's followers use ships that are not wind powered by horse powered. So something is wrong with this time period and our heroes are going to prepare to find out. After a lengthy speech, Mikey ends up becoming a Captain of his own ship, as the band of brothers begin to train their crew in order to combat the return of the Kraken and his followers.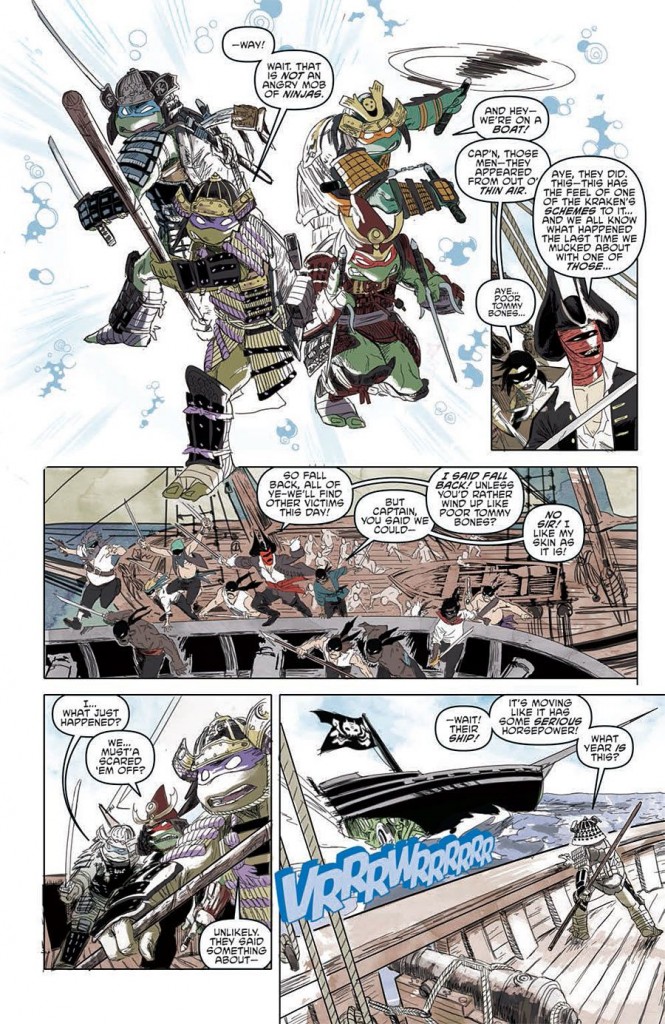 The art in this issue is amazing, It boasts a high level of intricate detail and some exceptional line work. The colouring is nice, bright and soft. So the reader knows that this issue is going to be a less serious one, with a one-shot feel to it. The art is changing with each issue, but the art in this one really works well, it complements the action scenes quite well. Creating a great read that is easy one the eye.
The Turtles in Time arc serves its purpose as being a fun filled adventure title that shows our heroes in completely different surroundings. It is more light-hearted than the main on-going story but it still makes for a good and entertaining read and like Michelangelo. I approve of this message.