Pages:
ISBN:
---
Storyline: A+
Artwork: A
Swamp Thing has definitely been one of the success stories of the New 52. It is twisted, dark and powerful and really a compelling read. This issue continues with the expectations that the on-going series has set for its readership as Anton Arcane is placed under the spotlight.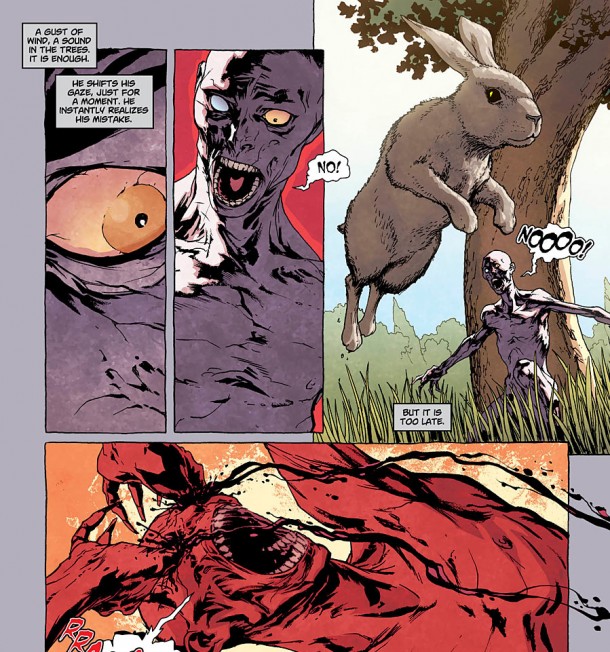 Swamp Thing #23 does not link to Forever Evil in any way. We are given the opportunity to see just what has happened to the former avatar of The Rot after the events of "Rotworld". Arcane is frail now that Abigail is the avatar of The Rot and the parliament has set about punishing him by banishing him to a world where he is alone, a world where nothing rots. He never dies no matter how hard he tries to kill himself. There is an awesome image where Anton wakes up again in a field of bodies, all his as a result of his suicides. Everything in this world is beautiful and lush, definitely a world that churns the stomach of this villain! It is then that the new avatar appears before Anton as she seeks her memories of the past.
Abigail looks amazing. She shows the contrast of the avatar of old and the current avatar. Whilst Arcane looks like a shrivelled raisin, Abigail looks powerful and she allows Anton to taste her power of The Rot in order to get him to give her some information. Abigail wants to know more about her mother and so the origin of the Arcane family begins. This origin is a twisted one that features many revolting acts made by Anton. We get to see his first taste of the Rot when he offers Abigail a story of her mother, one which is filled with dark humour and is so twisted it is unbelievable to conceive that a character is able to do such evil deeds in order to satisfy his yearn for rot. The way in which the title of the issue is worked into the story is also rather clever as Anton shows the reader he is indeed an intelligent foe.
Siaz art is amazing, you get to see all the elements that have made the main series so popular. The pencilling offers beautiful detail and rendering. Abigail looks as she should… powerful and her design is so well captured in this issue. The colouring also blends this issue right in with the ongoing and it creates stunning contrasts between the lush life of Anton's hell and the avatars of The Rot. Anton really comes across as being frail physically even though he is still strong mentally.
Swamp Thing #23: Arcane is probably one that will be slipping under the radar of many readers, and it shouldn't be. This dark tale is one of the greatest works to come out of Villain Month, far better than the stench of Earth 2 Solomon Grundy. This is an issue that offers an excellent story featuring strong dialogue, well-timed pacing and a terrific/terrifying twist.