---
Storyline: A-
Artwork: A-
Two renowned British authors, one in the realm of comic fantasy, and the other in the field of hard science fiction have come together to create a novel not only about speculative science fiction, but about the depths of the human condition itself. Such a pairing seems like a strange scenario to emerge, but has much potential for great success.

The novel presents the idea that all around us are alternate dimensions, multiple Earths, which for our own understanding exist either to the "east" or "west" of us. This means that upon travelling "west" you arrive in West 1, and if you travel "east" from there, you return to proper Earth, but if you travel "west" again, you arrive in West 2, another multiple Earth. These Earths are the result of other possible realities, in which various different decisions were made that have made that Earth different from ours. But there is one similarity between all the other Earths: there are no humans, and humanity had never evolved past the Homo habilis stage.
Humans become able to reach these worlds through using a "Stepper;" a device that allows movement in one direction at a time. Most humans are restricted by the fact that they are intensely nauseous upon arrival, and also that no iron or steel items can be carried through. Where this story presents its most interesting aspect is with how well it examines how this affects human life. When it becomes apparent that there is a way for infinite space, infinite resources to exist, how it affects our fragile societies in both good and bad ways becomes incredibly interesting to see, and these writers have captured that aspect exceedingly well.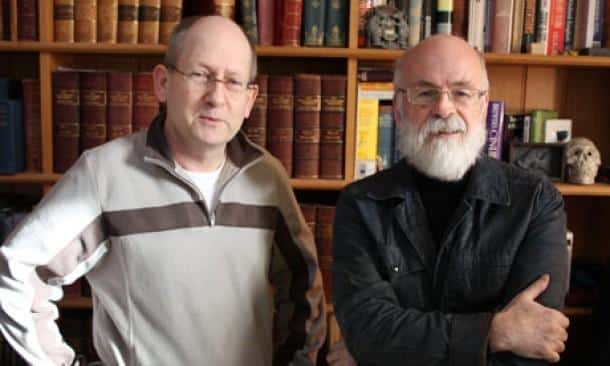 Pratchett, known mostly for his work in the Discworld series, seems to be dwelling mostly in the area of Baxter's speciality for this outing, but where his influence is seen is with much of the characterisation of our primary figures, in such a way that will be familiar to his normal readers. The protagonist, Joshua Valiente, a man with the ability to Step naturally by himself, is sent on a mission to see whether the Long Earth, as it is known, is truly endless, or whether it cycles back. He is accompanied by Lobsang, a Tibetan who has been reincarnated into a computer system. Their dynamic and Lobsang's very existence as a matter of fact, is always very entertainingly done, while at the same time being meaningful and heart-warming in many ways. Baxter's influence is seen very much in how well thought out of the scientific aspects of the novel are, as Baxter is an accomplished scientist in his own right. For a plot relying on an unimaginable concept, Baxter conveys a feeling of realism very successfully.
The Long Earth is a very entertaining novel, which is always appreciated, but also very thought-provoking, which is even more appreciated, in my opinion. The only negative I can see from reading it is the cliff-hanger for a sequel left at the end of the novel, now creating an agonizing wait for the next one. This is all evidence of a good book however, and this one is worth picking up if you care about the genres or writers at all.
[box_light]
The Long Earth Giveaway!
The good folks at Random House Struik have been kind enough to provide us with two copies of The Long Earth to giveaway.
As always, all you need to do is share this page on Facebook or Twitter and then leave a comment below (in the comments section) saying "done!" on this page!
The Giveaway/Competition closes Friday – 21st September 2012 at 12pm. The Giveaway is restricted to South African readers only and cannot be exchanged for cash. Terms and conditions/Site Disclaimer rules apply.[/box_light]